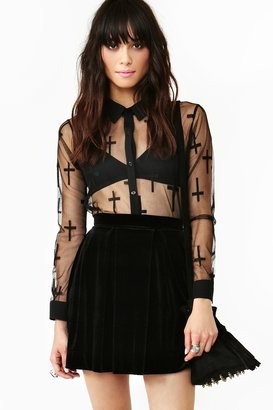 This spring, a trend being referred to as "peek-a-boo fashion" is going to be flying off the shelves of our favorite retailers. Cutout dresses and tops, skirts with slits, sheer fabrics, and midriff baring ensembles were the 2013 spring collections that covered the catwalks of New York Fashion Week. Fashionistas will have no trouble putting together the perfect sexy outfit for a date or night out on the town this season. The beauty in this trend is that these "peek-a-boo" pieces have options for every woman, no matter their body type or size.
This cut-out bustier from Nasty gal could be dressed up with a skirt and heels for a more sexy night out, or dressed down with pair of high-waisted jean shorts and flats- $38.
The Ecote Double Slit Maxi Skirt from Urban Outfitters is perfect for a fashionista wanting to show some skin while still looking chic and casual- $69.
Below are a few other options to explore when deciding which peek-a-boo element best suits your body type! Happy Shopping fashionistas!
Surrender Maxi Skirt from Nasty Gal– $58

Sheer Cross Net Blouse– $38

Sheer Wicked Ones Dress– $95

UNIF Leopard Print Ryder Cutout Dress– $138

Pyramid Dress– $58