I remember back during my Undergrad years I was preparing for my first fitness competition, and as college students we are always broke. I didn't know how I was going to manage a competitive diet on a budget. So today, I'm going to share with you some of my secrets on how I maintained a healthy diet on a college student's budget.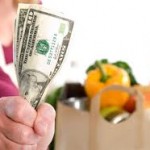 Saved sale papers and cut out coupons

Shopped at the Dollar Tree- When I would go to the Dollar Tree, I would buy potatoes, romaine lettuce, onions, carrots, black beans, spices, pasta, etc.

Checked Target for deals on food for my pantry
Be sure to save all your sale papers because some days you may get lucky. I loved when I would check sale papers and I would be lucky enough to find a 3lb Jennie-O Turkey on sale for $5. YES, $5. I made sure I always had Chicken breast, gallons of water, oatmeal, pasta, fruits, and veggies on hand. A lot of individuals make excuses as to why they can't eat healthy. I lived at the Dollar Tree when it came to buying my gallons of water because it was cheaper to buy them there, and some days I would be fortunate enough to find them priced right at the local grocery store.
No one is saying you need to shop at a Trader Joes or a Whole Foods to maintain a healthy diet, but it's possible. Always stay away from the end caps and spend a little more time exploring the grocery store. Store brands are always good. When I was in college (and now), my main concern when shopping for food was the amount of sodium that is in a product. Too much sodium would give me headaches, so I try my best to watch my intake when it comes to that.