Overview: Beca (Anna Kendrick) is looking forward to her future career as a DJ. When arriving to her new college she feels out of place and is forced by her father to join a clique. The clique she joins ends up being a cluster of mean girls, sweet girls and weird girls. Beca arouses the group out of their traditional ways of singing and into a more modern way of mixing their unique voices together. As a group, the team works together to climb their way to the top of the collegiate a cappella competition.
Pitch Perfect is okay for kids 14+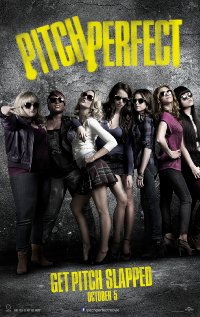 Cast: Anna Kendrick, Rebel Wilson, Brittany Snow, Anna Camp, Skylar Astin, Adam Devine, Aester Dean, Alexis Knapp, Hana Mae Lee, John Michael Higgins and Elizabeth Banks.
According to reports, Pitch Perfect scored an 81%, the plot was formulaic, but the performances and musical numbers were excellent.
Rottontomatoes.com scored Pitch Perfect 6.4/10
Out of average critics scored 66/100
(These scores are based from a range of 0 to 100, with 100 being the best score)
Boxoffice Magazine scored 90
USA Today, San Francisco Chronicle and Washington Post scored 75
San Francisco Chronicle scored 75
The Hollywood Reporter and Variety scored 70
Entertainment Weekly scored 67
Los Angeles Times scored 60
Chicago Sun-Times scored 50
The New York Times scored 40
This movie is a nontraditional, musical film. If you enjoy laughing and cappella music you will enjoy this movie, although you may wish to never eat another slice of bologna in your life.