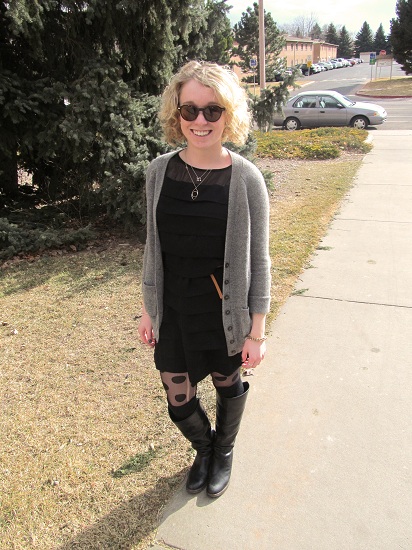 Can any of you guess my favorite color to wear? If you guessed black, thank you for following my style posts! Yes, I'll admit it, I am addicted to the color black. I guess you can blame by mom. I was raised with this nonsensical idea that it's acceptable to wear black all the time. Whether that's true or not you can decide for yourself, but one thing is for sure, what I wear is always "in."
However, wearing all black has its limits and challenges. You can't wear all black in one fabric because it just doesn't look right. Then you have to balance the black with textures and accessories to avoid looking "emo" or "goth" or whatever the kids call it these days. The perfect example of this is my 20's style mixed with polka obsession I was feeling when I woke up this morning. I took this Forever21 flapper looking dress and cinched it at the waist with a TAN belt (sorry you can't see it). Adding a belt not only gives the outfit color, but it also gives the dress shape. Next, I threw on my Free People polka dot tights for texture and pattern. Adding the knee socks with the tights mixes solid black with textured black, and completes the overall leg look with the boots. Last, I layered the look with this grey sweater from Madewell. It may be another neutral color, but at least it's not black.
There you have it, you CAN look stylish in one color. All you have to do is add texture and throw in some other neutrals…or maybe even real color!
Do you feel like it's unacceptable to wear all black even though you're a secret black addict like myself? Share your fear below, us black enthusiasts need to stick together!