I've always loved Kate Hudson. From Almost Famous, to How To Lose A Guy in 10 Days, Kate has always been one of my favorite actresses. She's adorable, witty, and seems so down to earth. Needless to say, when I found out she was teaming up with Ann Taylor to create her own line, I looked into it! Although I don't personally shop at Ann Taylor regularly, Kate Hudson has always been somewhat of a style icon to me, so maybe she'll give the store just what it needs for a more fashionable push in the right direction that Fashionistas of all styles will appreciate.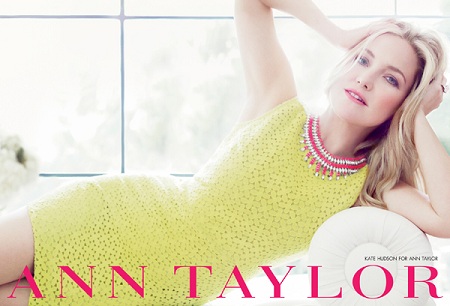 Hudson has signed on to be a guest designer for Ann Taylor's capsule summer collection. Kate always looks stunning on the red carpet, as well as having a simple yet chic everyday style. Hopefully, the combination of both stunning and chic will make for a perfect line. In an interview with Women's Wear Daily, Hudson shared the positive experience she had while working with Ann Taylor. "Working with Ann Taylor has been a great creative experience, and there is a really wonderful connection. Ann Taylor is great at creating iconic wardrobe staples and updating them season after season…I love that Lisa Axelson is designing clothes for real women."
The campaign for the line will preview in February, and the line is set to be released in Ann Taylor stores in May.