The red carpet was bursting with beauty at the 2013 SAG Awards this passed weekend.  There were a lot of gorgeous actresses and actors dressed in their high end formal attire. Before every award show, the red carpet is what to watch because you can see the latest designer trends on people that we all look to for fashion inspiration! There were so many vibrant colors seen at the SAG Awards this year including blushing pink, pretty purple, navy blue, and classic black.
Anne Hathaway wore a black Giambattista Valli haute couture gown. This dress was defiantly different than what Anne usually wears on the red carpet, but definitely worked well with her skin tone. This gown was very fitted with a flared tulle overlay.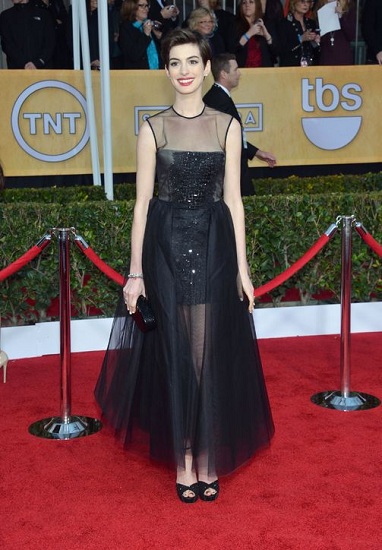 Ariel Winter wore a blushing pink Alex Perry gown. This was a great choice for her because she is a younger actress (just 15 years old!) and this dress suited her age very well. This pretty pink dress is strapless with a sweet heart neckline and a flared bottom. The bodice popped with a lot of multi-colored floral embellishments.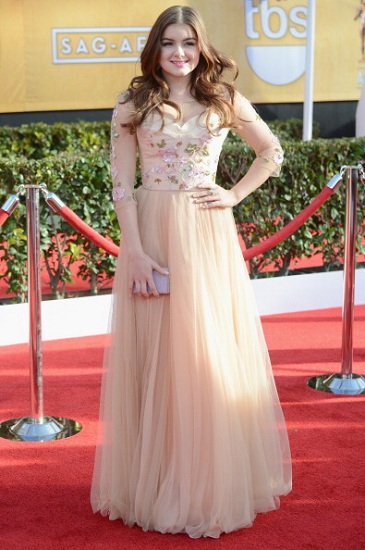 Sarah Hyland wore a strapless purple Dolce & Gabbana gown. This dress was a dark purple with a faint abstract floral print. The structure of the bodice of this dress was a corset and the rest of the dress flowed out and away from the body.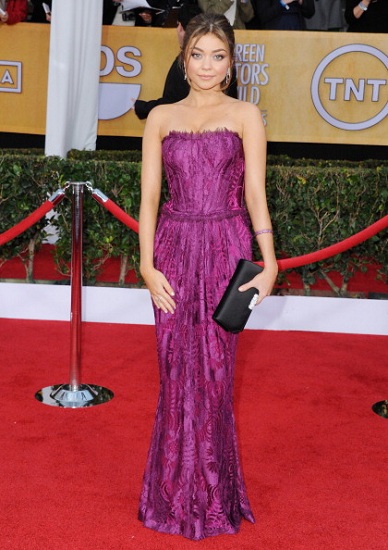 Lea Michele wore a hot pink, strapless Valentino gown. She looked amazing on the red carpet in this strapless gown with a flared silhouette and a large ruffle around the bottom of the dress.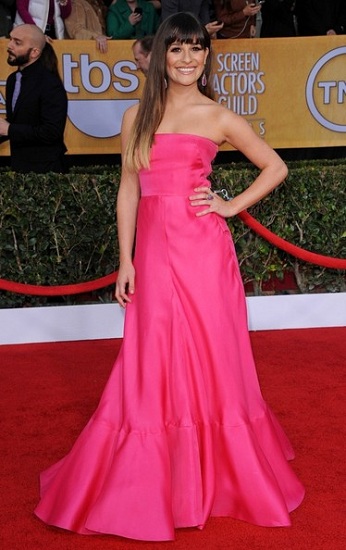 Julia Stiles wore a silver Amen Couture dress. This dress was stunning on Julie and worked really well with her figure and hairstyle. The dress has a low cut neckline with a mermaid fitted silhouette.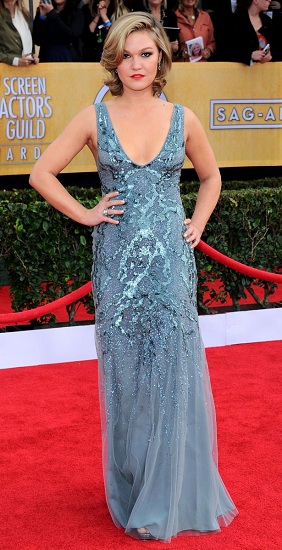 Nicole Kidman also wore a navy blue Vivian Westwood gown. She strutted down the red carpet with a sleek, straight hairstyle. The gown was fitted with a sweet heart neckline and a slit down the front.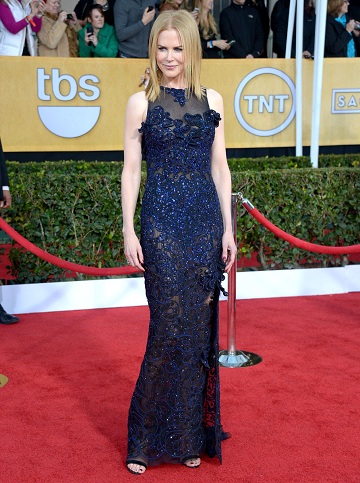 Jennifer Garner wore a gold sequined Oscar de la Renta gown from his pre-fall 2013 collection. To accessorize her look, she wore David Webb jewelry and Brian Atwood shoes.
Jennifer Lawrence is seen here in her navy blue, Christian Dior strapless gown. This dress was very simple but looked great with her complexion and hairstyle.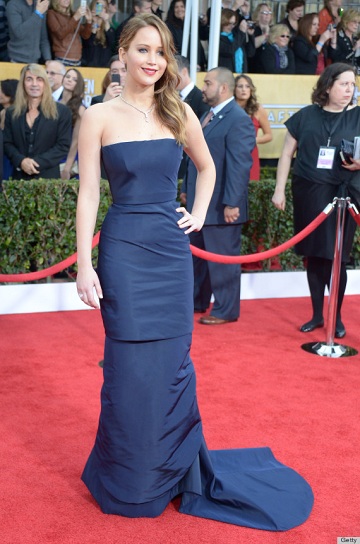 Amanda Seyfried wore a midnight blue, Zac Posen gown from the pre-fall 2013 collection. This dark, midnight blue gown is a fitted strapless gown with a layered mermaid silhouette. Amanda looked absolutely gorgeous in this dress and sure looked like it was made for her!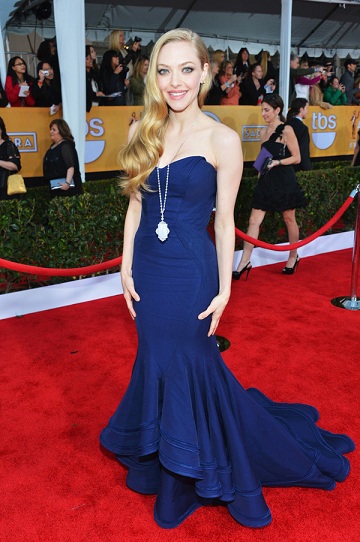 What was your favorite dress from the 2013 SAG Awards? Leave us a comment below!