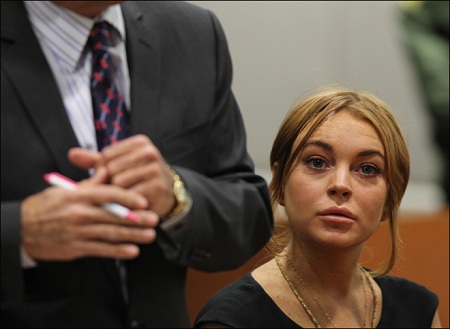 Yes—Lindsay Lohan has done it again, reportedly she has pleaded not guilty for misdemeanor charges from her June 2012 car accident. The Los Angeles judge ordered Lindsay to appear in court due to a probation violation charge and accusations that she was dishonest to an officer about the car accident. Lindsay and her mother, Dina Lohan, took a flight out to Los Angeles Tuesday night to attend the court date Wednesday at 8:30 a.m. The decision to attend the Wednesday pre-trial hearing was made at last minute, because the Lohan family believes Lindsay has done nothing wrong.
According to a source, Lindsay thought she could get a sick note to get out of court. Lindsay fired her long time lawyer Shawn Holley sometime last week to hire New York Lawyer Mark Heller. It doesn't look like Lindsay upgraded lawyers, Reports claim Heller was suspended in 1994 from practicing law for five years by the State Supreme Court. Meanwhile, Shawn Holley is supposedly not licensed to practice in California where the court date was scheduled. It seems Lindsay Lohan is already begging for Holley to return. One might ask, why Lindsay would release her long time lawyer, Shawn Holley, after her rough path through the legal system beginning six years ago.
The talk is Heller did help Lindsay receive a doctor's note saying she was too ill to take a cross-country flight. After receiving the note, Los Angeles County Superior Court Judge Stephanie Sautner saw the tabloid photos published Tuesday, showing Lindsay shopping in New York with no apparent signs of illness.
So how did the pre-trial hearing go for Lindsay? We weren't there but Lindsay Lohan was like seven minutes late with her mother and her new lawyer Mark Heller in tow. During the hearing, it was determined there would be another pre-trial hearing scheduled on March 1st, in which Lindsay does not have to attend, but she will be expected to appear on March 18th for trial.
Sounds as if Lindsay has a few rough months ahead of her as the court dates continue. On the flip-side, fashionista style, she wore a simple black Chanel dress with her hair pulled back in a low ponytail. Very classy I must say.
What did you think of her in Lifetime's Liz & Dick?