Just as we are battling the same legalities in the U.S., France is addressing the same issue across the pond and doing it in the most fashionable way! Always having been a trend-setting nation in the fashion industry, the country of France and the city of Paris make statements all their own. Americans usually follow Persian trends about a season, but Gay marriage is more than just a trend and it's a battle we share. The New York Times and Yahoo News featured articles this week about how France is taking a stand in the matter and doing so through high fashion.
Paris just recently celebrated its fashion industry with fashion Week shows and soirees. Highlighting fashions for Fall and Winter 2013, top names like Dior, Alexander McQueen, Balenciaga, Jean Paul Gaultier, Stella McCartney, and Louis Vuitton presented stunning shows that have Fashionistas around the world excited for fall already. Most notably, French designer Karl Lagerfeld for Chanel sent two female models down the runway hand-in-hand with child in toe. As talk and protest of legalizing gay marriage in France explodes, Lagerfeld and Chanel have come forward to elegantly express their beliefs.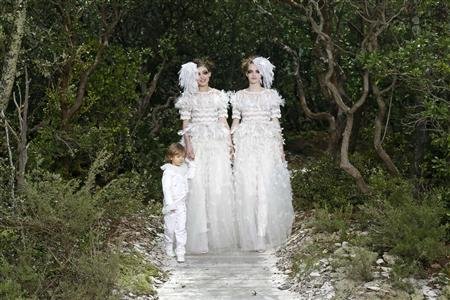 Just before Karl Lagerfeld made a statement with Chanel, thousands rallied in Paris to support of the movement. The bill opened for debate and these colorful supporters marched as one to bring awareness to the importance of the issue. Sporting banners with sayings like "Equality is not a threat" and "marriage for all", the crowd walked around town, pausing briefly for readings and small concerts featuring artists in favor of the legalization of same-sex marriage.