For the Super Bowl XLVII, I'm proud to announce that Tidal Labs selected First Class Fashionista to be featured on Pepsi's Tumblr as a halftime show blogger. This is an awesome opportunity for FCF to be exposed to millions of Pepsi fans! Hi, Pepsi.Tumblr.com readers!!!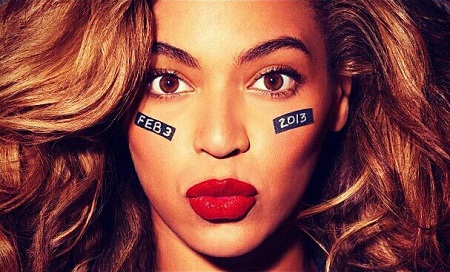 Super Bowl 47 is one for the books. Real-life brothers San Francisco 49ers Coach, Jim Harbaugh, and Baltimore Ravens Coach, John Harbaugh, were on opposing teams. Can you imagine the Harbaugh family's dinner table conversations? Offense, defense, tight ends and a lot of unnecessary roughness, this game was serious. There are a lot of game day divisions, you either love or hate the 49ers or the Ravens, but the Super Bowl commercials and halftime show can be enjoyed by everyone.
After receiving backlash for singing the National Anthem to a pre-recorded track on Inauguration Day 2013, Beyonce's live and seemingly effortless halftime show performance was outstanding. In a leather and lace bodysuit, knee-high boots and long leather gloves, the show began with a couple of bars from "Love on Top" and opened with Crazy In Love. As the fans had hoped, Destiny's Child members Michelle Williams and Kelly Rowland joined Beyonce on stage to sing songs like Bootylicious, Independent Women and Put a Ring On It. Many people were also expecting Jay-Z to make an appearance, but Beyonce closed out the show with a solo performance.
From the digital effects to the choreography, the entire production was flawless.