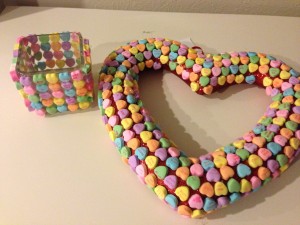 Heart Wreath
Valentine's Day is in less than two weeks and there are a lot of fun things you can do around your house to make it bright and cheerful. A little decoration can't do any harm. It can make any holiday fun and exciting for anyone. This DIY wreath is fun and can be a great project to do with your kids for Valentine's Day. The wreath can either be used as a decoration or for a gift.
Skill level needed-Low
Supplies Needed:
3 bags of candy hearts (Dollar Tree, Target, or Wal-Mart)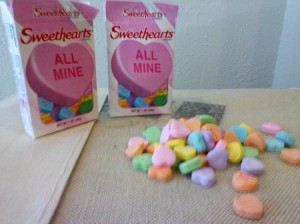 Hot Glue Gun (Any craft store)
Glue Sticks (Any craft store)
Ribbon or fabric of your choice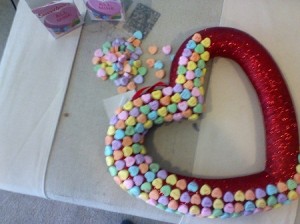 Step 1: Let hot glue gung heat up, take one bag of candy hearts and spread out over a flat surface.
Step 3: Continue to glue the candy hearts around the wreath.
Step 4: Glue 4 or 5 rows of candy hearts around the wreath.
Step 6: Make sure to remove all the loose strings from the hot glue gun.
Candy heart Candle Holder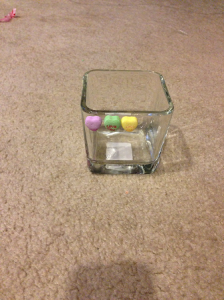 Candle Holder
Skill Level Needed Low
Supplies needed
1 bag of candy hearts or your favorite candy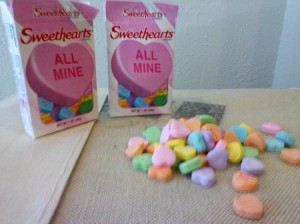 Hot glue gun
Glue sticks
This is another great craft to do with your kids or just for fun.
Step one: Take your candle holder or vase and start to glue on candy hearts in rows starting from the top and work your way down. It is also better to do glue all the hearts on one side of the holder and then start at the top of the next side.
Step two: Continue to glue all of the hearts on making sure to only use a touch of the hot glue.
Step three: After all the hearts are all glue on, make sure to remove all of the strings from the hot glue.
Step four: To finish it off you can either add a bouquet of flowers or a candle.