Super Bowl 2013 Fashion (Yep, that's right!)
Like all television events, my favorite part of any show is seeing what the people being featured were wearing. Although most people probably wouldn't think of being able to appreciate fashion during the Super Bowl, you would be surprised. Of course the players are wearing uniforms that they always wear according to their team, but the performers throughout the game were actually dressed to impress in designer garb.
Ask anyone, I am not a football fan, but something about the Super Bowl (and especially the halftime show entertainment) is intriguing to me. When I heard Beyonce was going to be performing during the Super Bowl XLVII halftime show, I immediately became excited and looked forward to her performance.
As well as Beyonce's performance, Alicia Keys performed the National Anthem before the game began. Sitting at a white grand piano, Keys looked absolutely stunning in a very in style, ox blood Alia gown. Her short hair was slicked back and simple, accentuating the gorgeous dress even more.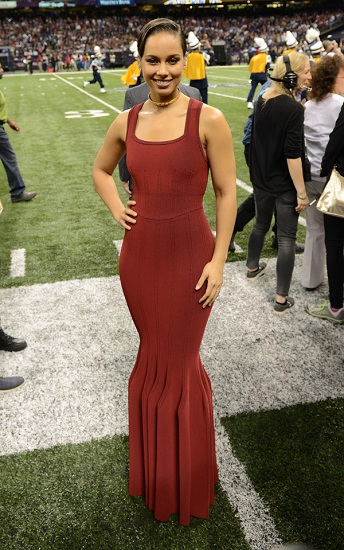 Jennifer Hudson also performed during the Super Bowl, and although she's amazing on her own, with the help of a kids choir from Sandy Hook, Connecticut, J Hud and the kids made a heart wrenching tribute to the children and adults who lost their lives in the Sandy Hook shooting. They performed a beautiful version of America the Beautiful, and that wasn't the only thing beautiful about the performance. Hudson showed off her amazing figure in a black leather Monika Chiang top, a white Scott L'Wren Scott skirt, and YSL shoes.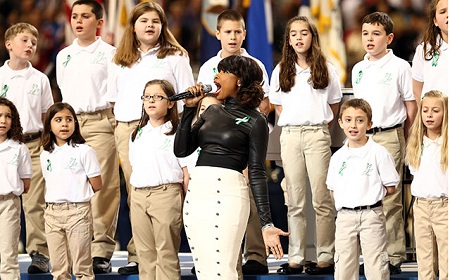 Last, but definitely not least, Beyonce stole the spotlight during her much anticipated half time performance. While she gave another flawless, and of course fierce performance, for me what really stole the show was what she was wearing. She sang Love on Top, Single Ladies, and Crazy In Love and Destiny's Child group members Michelle Williams and Kelly Rowland joined her on stage. As if that weren't enough, B was also wearing a structured leather leotard which featured quilted straps, and a lace mini peplum style skirt. The outfit was created by costume collaborator Rubin Singer and was paired with amazing Proenza Schouler ankle boots and elbow length gloves. She looked and sounded flawless, as usual!