Have you ever thought about how inspiring food can be? This may sound weird, but sometimes if your day is just not right or the weather outside is gloomy and you just need something to cheer you up, food can be the perfect the solution.
Here are a two different recipes that are perfect for a gloomy day.
Mama's Secret Chili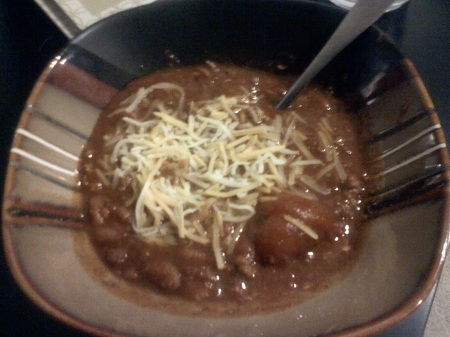 Ingredients
1 pound of Hamburger
1 package of chili seasoning
Chili Beans
Chili Gravy
2 large cans of whole tomatoes
½ cup of pace salsa
2 tsps. of garlic salt
Step 1 Brown the Hamburger
Step 2 Drain the Greece.
Step 3 Add Chili Beans, Chili Gravy, canned Tomatoes, salsa, and garlic salt.
Step 4 let this simmer in a large soup pan for about 30 minutes to let everything cook. After 30 minutes take a sample to make sure it is to your liking.
Enjoy this chili with some rolls or tortillas. It's also great to add a little cream cheese or cheddar cheese before eating. This is a perfect chili recipe that anyone can make and it can taste great on a cold day.
Hang over Peruvian soup
This soup is a delicious recipe that is also pretty easy to make. This hang over Peruvian soup can brighten your day. It is also a great soup if you are feeling a little under the weather from having a little too much fun the night before, and you need a little pick up.
Ingredients
2 Cups of fresh Cilantro Leaves
6 cups of water
2 tablespoons of corn oil
3 cloves of garlic, chopped fine
1 small onion, chopped ½ cup
2 large red peppers, chopped and seeded
1 pound of potatoes, chopped
1 pound of chicken (you can use whatever type of chicken, chicken wings tends to work the best)
1 stalk of celery, chopped
1 cup of rice, soaked in water for ½ hour and drained
½ cup of peas (fresh or frozen whatever you prefer)
1 large carrot, chopped
1 teaspoon of salt
¼ teaspoon of pepper
Step 1 using a food processor blend the cilantro into a past with ¼ cup of water.
Step 2 Heat 1 tablespoon of the oil in a skillet and stir fry the cilantro past for about 2 minutes.
Step 3 Heat the remaining 1 tablespoon oil in the skillet add the garlic, onion, red peppers, chicken, and stir fry over low heat for 3 minutes.
Step 4 in a large pot brings the remaining 5% cups of water to a boil. Add the chicken, cilantro paste, potatoes, celery, rice, peas, carrots, salt, and pepper. Cover the pan and cook over low heat for 45 minutes.
Step 5 after, 45 minutes the chicken should be very tender and the soup should be ready for dinner.
This soup also tastes great with some tortillas or rolls. I hope these recipes inspired you to try something new. They are very simple and easy to follow, so hopefully all of you out there who are scared to be in the kitchen can go and cook one or both of these amazing soups.