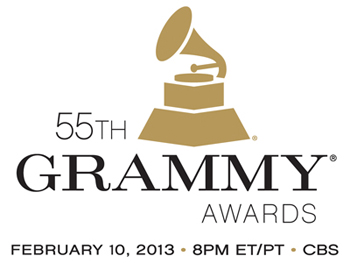 Are you ready for The 55th Annual Grammy Awards Show on Sunday, February 10, 8/7c on CBS? Well this year maybe your children will be able to watch the show without being asked to cover their eyes from excessive exposure from the artists we all know and love.
We've read that each performer at the Grammys received a wardrobe advisory letter from the CBS network stating, "Please be sure that buttocks and female breasts are adequately covered…Thong type costumes are problematic…Please avoid exposing bare fleshy under curves of the buttocks and buttock crack. Bare sides or under curvature of the breasts is also problematic…Please avoid sheer see-through clothing that could possibly expose female breast nipples…Please be sure the genital region is adequately covered so that there is no visible 'puffy' bare skin exposure." In addition, attendees and their backup dancers are to prepare alternative wardrobe choices. Attendees were also asked to avoid wearing any commercial identification of brand name products on apparel, along with foreign language graphics.
According to reports, after the recent Super Beyonce…Oops, I mean Super Bowl performance by Beyonce, some mothers and conservative individuals are relating the performance to a Victoria's Secret Fashion Show.
As CBS is the network in which aired the Super Bowl, you can see why they would be concerned about the upcoming Grammy Awards Show. Supposedly the conservative radio talk-show host Laura Ingraham sarcastically tweeted about Beyonce's performance, "Very family-friendly dancing S&M by Beyonce. What every girl should aspire to…Writhing in a leather bustier in public Girl power."
This announcement and changes made by CBS is no surprise, they let so many performances slide in the past. Think about 2010, when Pink sang "Glitter in the Air" while she hovered over the audience wearing her sheer body suit…something CBS would consider a "problematic thong-type" outfit now-a-days. Other performers who are known to wear provocative attire from past years include; Rhianna, Lil' Kim, Jennifer Lopez and Lady Gaga. Maybe this announcement from CBS will prevent wardrobe-malfunctions like the 2004 Super Bowl incident with Justin Timberlake and Janet Jackson from occurring; in which CBS was fined $550,000 by the FCC, which was later overturned.
The Parent Television Council urged the FCC to take action in future shows and event performances after MVP Joe Flacco said the F-word.
Another part of the wardrobe advisory letter from the CBS network read in all caps, "OBSCENITY OR PARTIALLY SEEN OBSCENITY ON WARDROBE IS UNACCEPTABLE FOR BROADCAST." Due to CBS changing their ways after the Super Bowl, the Grammys will be on a delay to allow bleeping and visual blurring in case of unforeseen obscenities. Foreign language obscenities will have bleeped and blurred as well.
Besides all the extra layers that might be worn February 10th, you can expect to see LL Cool J hosting the Grammys and performances from Taylor Swift, Rhianna, Frank Ocean, Carly Rae Jepsen, fun, Drake, Maroon 5, The Black Keys, The Lumineer, Nas, Kelly Clarkson, Jack White, Kanye West, Mumford & Sons, 2 Chainz, Miguel, Coldplay, Lil Wayne, Skrillex, Jay-Z, Bruce Springsteen, Gotye, Wiz Khalifa and many more!!!