Mercedes Benz New York Fashion Week has officially begun and we at First Class Fashionista are on full-trend from the runway watch. As the shows and collections make their debut, it's obvious that black and white will make its way into our wardrobe. Although, not an unlikely duo, the color pairing has departed from being just another basic. Designers Pierpaolo Piccioli and Maria Grazia Chiuri completely reworked the hues into rich luxury garments for their "Hansel and Gretel" storybook inspired collection. Intricately sewn details adorn the delicate collars of blouses, while thick knitwear is belted at the waist.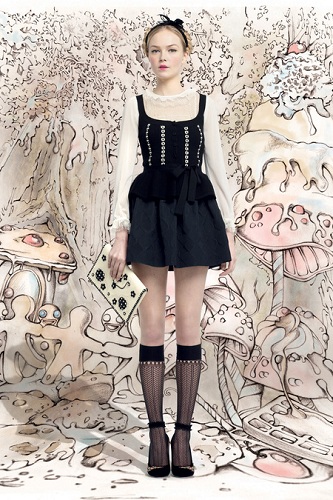 Part German Heidi, part New York school girl.
Mod clearly stood as the center of inspiration for designer Lisa Perry's pre-Fall collection. Perry who is known for her casual luxury pieces, added noticeable pops of fair throughout her collection. In addition to her stark color pairings, thick fur trims and opticals, hounds-tooth also made an appearance.
Juicy Couture's Fall collection proves the line is no longer reserved for the California maven. Although there were still obvious signs of beach lifestyle, the collection took a departure from their terrycloth tracksuits and traded up for some serious style. As if the black and white heeled oxfords weren't enough to make us beg for more, the patterned printed tops and metallic pants had us wishing for Fall.