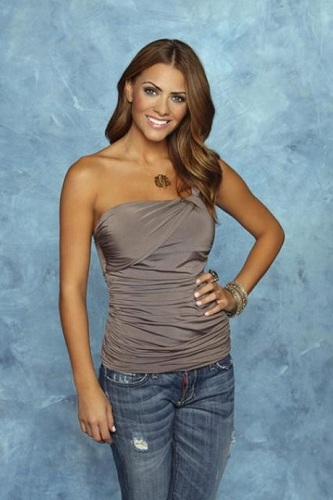 First Class Fashionista got the awesome opportunity to interview Bachelor and Bachelor Pad alumni, Michelle Money. I have been a fan of the Bachelor for years, and Michelle Money was always one of my favorite contestants. Although she was portrayed as the "crazy girl", I always admired Michelle's fashion sense, as well as her amazing hair (she is a hairstylist after all)! She was on Brad Womack's second season of the Bachelor and made it down to the 5th girl, as well as almost won Bachelor Pad season two. Since then, Michelle has continued as a hair and makeup stylist as well as a model and actress. She has a youtube channel (www.youtube.com/mmandl) where she gives hair and makeup tips with a primary focus of empowering women.
Our team here at First Class Fashionista was lucky enough to speak directly to Michelle regarding Valentine's Day and ways to pamper and empower yourself, whether you are single or attached. We came up with questions to ask Michelle and she had many wonderful and unique ideas. During the interview, Michelle was very passionate about celebrating yourself on Valentines Day, and being able to do this without a man stating, "It's so important for women to take the time to love yourself, and there's no better day to remind ourselves of that than Valentines Day. I think we get in our head that it's this day of love with a significant other, and it doesn't need to be like that. It's about loving your friends and your family, and letting them know how much they mean to you. And you know, there are so many different things we can be focusing on on Valentines Day that don't have to do with having a date."
,
FCF blogger Sophia and I were fortunate enough to ask Michelle a couple questions and her answers were very insightful:
Sophia: You always had such flawless hairstyles during your season on the Bachelor. Any tips or tricks for getting those perfect waves and curls?

Michelle: Well, fortunately I have a YouTube channel where I share all of my beauty tricks. And it's called the mmandl show, it's me and my best friend Laura, and there's actually a video that we've made called the Michelle Money curl where it's a tutorial that shows you exactly how to get that look.

Maddie: Do you have any makeup tips that you can share to give a new look for someone who's been with their significant other for quite sometime?

Michelle: Yeah! One of my favorite things to do is, a lot of people don't usually wear a bright lip. It's really fun and refreshing to see someone you dont normally see with that kind of color, just rock a beautiful red lip or a pink lip. Play around with a bright color that is good for you. Go to Sephora, go to Department stores and ask for help because one bold color on you isn't going to look as good on someone else, so it is important to find that tone that is perfect for you, for your skin tone and everything. But find your lip color that is your go to bold, and start rocking it.

Sophie: You seem to always have a really bold and beautiful shade of lipstick. What brands do you use?

Michelle: My number one all time favorite lipstick in America is Bobbi Brown the True Matte lipstick, they're new, she came out with this line pretty recently. My favorite color is True Pink, but I have Callypso, and Pink Lily. It's the best, rich, true, bold color that's matte, but not too matte. I don't know what she's done over there at Bobbi Brown central, but she's rocking my world.

Maddie: What's a good, non-traditional Valentines gift to get someone you've been dating for a while? For example, something other than jewelery, chocolate, or flowers?

Michelle: You know what, you can get creative. You know what could be cool? There's so many different applications you can do online to put a book together, like all your pictures, put a book together of them all. You could make them a CD of all your favorite songs.. You know what could be cool? You can sign up for a dance lesson and take a dance class.
It was a pleasure to interview Michelle. The Bachelor airs on Monday nights. *Like the Motorola Droid Razr M? We're happy to announce that we've teamed up with the brand to give our readers a chance to take one home. Look for our giveaway post going up soon!