Good Exchange for Change Fashion Show & Clothing Swap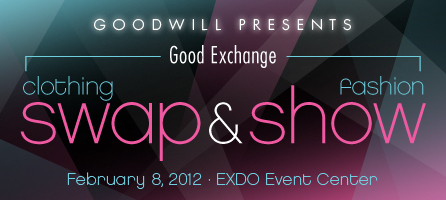 Kicking off Fashion Week, Project Runway All Star winner and Denver fashion designer Mondo Guerra and three other Project Runway stars Fallene Wells, Peach Carr, and Michael Costello teamed up with Goodwill for their third annual Good Exchange for Change Fashion Show and Clothing Swap.
To start the night off, the Project Runway stars took photos with all of the VIP attendees while everyone enjoyed some delicious, complimentary appetizers. There was a gallery set up with some of the designer's current pieces. A group of students were put to the challenge to create a little blue dress. The competition was hosted by Mondo himself. The students were given $25.00 dollars to remake or refurbish a garment from Goodwill. The goal was to create a little blue dress that expressed who they were as designers.  The gallery showcased a display of inspiration boards from each student. Each board had sketches, fabric samples, inspiring pictures, and anything else that inspired the students when creating their new ensembles.
Shortly after everyone mingled, the runway show began. The celebrity judges were first to strut down the runway. They were in charge of judging the student competition. With the judges sitting on the side of the stage, the models started to make their way down the runway in the student's designs. The crowd was really excited and supportive of each design that came down.
Chloe Jarisch was inspired by 1970's mod style dress. This design was a beautiful royal blue and tribal print in a straight silhouette dress.
Vanessa Mascarenas created a royal blue silk dress with black leggings and a floral black waist belt.
Sylvie Cubbage was inspired by Marie Antoinette and designed a silver and blue dress.
Joselyn Lopez wanted to create an ensemble that was punk inspired, but professional. This outfit featured a blue silk skirt and a plaid blouse.
Jackie Castorena was inspired by Alice and Wonderland. She created a one shoulder dress with a black chiffon overlay. The dress also had pieces of glass around the waste of the dress.
Taylor Bigum was really inspired by the ocean and mermaids. She made a color blocked knit dress with slits on either side.
Nina Mascheroni wanted to create something that was transversal from morning to night. The dress she created was strapless with small layers of petals that covered the dress.
Justine Chapel created a dress that was both masculine and famine. The dress had a green train and the model wore collar around her neck.
Nicolen Fernandez made a dress that was navy blue with a peplum and a low back with a black lace strap across the back.
Celene Alejandre wanted to make an ensemble that was classy and cute. The dress was royal blue satin with felt flowers. The hem of the dress had lace trim around the bottom of the dress.
Genevvieve Glowacki Geyer created a corseted dress with side ruffles.
Alysh Lynch created a royal floral print dress with a black studded jacket that was worn over the dress.
Fallene Wells was the next designer to show us how great shopping at thrift stores can be! She put together several ensembles of pieces that she found at a consignment store called Deja Blue of Cherry Creek. Each ensemble she put together was fabulous, fun, and unique. Fallene also gave a few tips to the audience about what to look for when shopping a consignment store. She said to "Dress with your body in mind and to find styles that are versatile". She also said to find clothing in bold colors, versus black. Bailey Rose and Yoshida showed a few designs to finish of the evening.
Bailey Rose had a few different designs using plaid. First was a red plaid dress, following that was a brown plaid dress worn by a male model. This dress was draped with chiffon fabric down the back and leather embellishments. This ensemble was paired with black combat boots. Yoshida shocked the crowd with a military inspired dress and a pantsuit with suspenders attached at the knees.
The event ended with the clothing swap. Everyone who attended the show donated 10 clothing items and then got the chance to find 10 new items at the end of the show. This was a fantastic idea because not only did it benefit the people who attended the show, but whatever was not taken was being donated back to Goodwill. The event was a huge success. It was great to see the impact that Mondo has had on his hometown. Mondo started out using re-furbished items from Goodwill and creating new designs. Being a part of this event was a way to pay it forward to the community and show others that re-inventing clothing can be fun and successful, while giving back!
Enjoy the pics shot by FCF Blogger Nicholas B.!