Dress in Denim
One of the latest street fashion trends is the denim shirt. This look is perfect for everyday casual-chic wear. Dressing in denim can work great and fit into anyone's style. Whether you like to wear lace, studs, or bleached denim, there are tons of great options to find cute denim tops. These tops are great to wear with dress pants, over dresses, or with skirts. The problem is, denim is always a little questionable for most people. They're not sure if denim would be hard to match with other clothing items but, the truth is, you don't have to be worry because there are a ton of denim options out there with embellishments that are a fantastic fit for every personality.
Bring out the punk rebel side and find some denim blouses with studs or spikes. Studs can make any women feel like they can concur the world when they walk into the room.
Forever 21

Forever 21

Bleached and Destroyed denim is a trend from the late 70s and early 80s that randomly keeps coming back in trends. This style is not for everybody, but it can look great with the right pair of pants and accessories.
Forever 21

Denim and Lace can look really feminine paired with a sheer shirt or a pair of printed pants. Urban outfitters, Jcpennys and forever21 both have really cute denim shirts with lace on the shoulders.
Forever21

Plan denim blouses are perfect for anyone's style. It is great to have a plain denim shirt in your wardrobe to either dress up or down with. JCpenny has a selection of denim blouses that are affordable and classic.
At JCPenny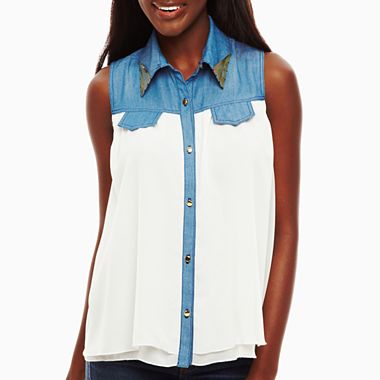 Whenever you're shopping, make sure to look for things that you feel great in. Denim is certainly a great choice to add to your wardrobe. Finding what you are comfortable in wearing is the key to feeling fantastic while encountering day to day activities. Clothing can make a person feel confident and complete, so find what works for you.