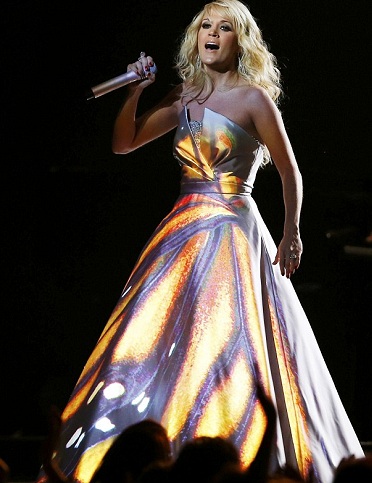 Carrie Underwood blew away the competition for the best dress this year at the 55th Annual Grammy Awards. Her virtual gown worn during her performance of "Blown Away" captured the most views and votes for the best dress. As expected, the Grammys secured the top ratings for Sunday night's televised entertainment show, earning 28.1 million viewers.
During her performance, the 29-year-old country singer introduced the world to the future of fashion, projecting various images from her ivory Theia dress. According to reports, her dress was the most visually attention-capturing. It was the most images ever seen on a human-being. Even though she was just standing there it was, in my opinion, the best and most remembered performance of the night.
Another Carrie Underwood gown that captured the attention of all was her stunning black strapless, Roberto Cavalli embroidered gown. Underwood wore a Johnathon Arndt necklace, supposedly worth $31 million dollars, with the gown! According to a source, Carrie said, "We had a dress especially made. I said I should take that home and we can watch movies on it…I'm afraid someone is going to tackle me and steal it, it's worth more than me."
In my opinion, the virtual light up LED dress was the best part of the Grammys! I hope to see many more virtual dresses in the 56th Annual Grammy Awards show…Maybe some form fitting to see the actual movement of the performers.