Before I dive head first into the looks I loved and the looks I loved to hate, I am going to touch on a few trends that I noticed this year. I saw a ton of peek-a-boos, lace, and cut-outs, as usual, but this year what really stood out to me were the printed jackets, shimmery metallics and the miss-matchig suits. Another thing I picked up on, was the bombardment of under-dressed celebs. Come on people…IT'S THE GRAMMYS!
Trend 1: The Printed Suit Jacket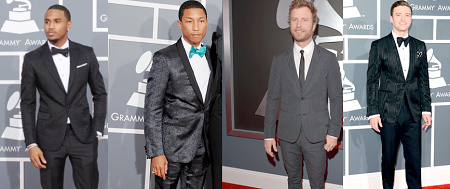 I loved this trend. Lets face it, men can be creative when it comes to black tie events, but they definitely don't have the same amount of wardrobe freedom or choices as us girls do. That is why I loved this trend. From left to right; Trey Songz, Pharrell Williams, Dierks Bentley and Justin Timberlake. Whether faux woodgrain on JT, or cheetah print on Trey, these men plus names like Ne-Yo and John legend were sure to stay on top of their suit game this year, and take things up a notch.
Trend 2: Shimmery Metallics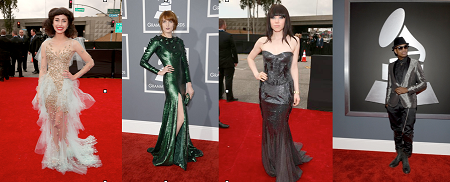 From left to right:
Kimbra, Florence Welch, Carly Rae Jepsen, and Ne-Yo were among the few to rock this shimmery red-carpet look. A few other stars with the same idea were Solange Knowels, Tay Swift, Kat Dennings, and Carrie Underwood.
Trend 3: Miss-Match Suit Jackets

This was my favorite look for the men on the red-carpet, right before printed jackets. However, I do not agree with all of the selections. From left to right; Jay-Z, Nas, Wiz Khalifa, and John Mayer. LL Cool J, Drake, JT, ans Ryan Seacrest were among the many who pulled off this look as well.
The next item on my agenda, are four women who fell, not in my worst-dressed category, but also not in my best. These are four women who I felt had potential but missed something along the way, or they were just inappropriately dressed for the occasion.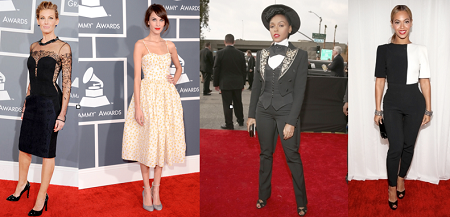 From left to right:
Faith Hill; I LOVE THIS DRESS. I think it is absolutely beautiful…one tiny problem, it's too short. Once again, these are the Grammys, need I say more? Black. Tie. Event. People. Black-tie event. Gowns and suits.
Alexa Chung; Seeing as Ms.Chung is in my top 3 style icons, it brings me much sorrow to have her in this list. This outfit is wonderful…for a day at the beach. She got everything right from the shoes to her hair, but this is a birthday party outfit, a day party outfit at that and I am sad to see her fall short.
Janelle Monae; Let me preface by saying how much I love Monae, and how much I respect her original style. I would have totally loved this outfit if it were the first time I was seeing it, but now I can't keep track of her suits. They all seem the same to me, and I would really love to see her do something new. A little played out for me, sorry Janelle.
And last, but not least, Beyonce. I know I am crossing a lot of lines by putting her on any list besides best-dressed, but I need to speak up. This. Is. Not. Grammy. Material. Enough said. I love, love, love it. Song premiere, movie premiere, meeting, dinner with Jay… not Grammys.
And now for the juicy part; My Best-Dressed List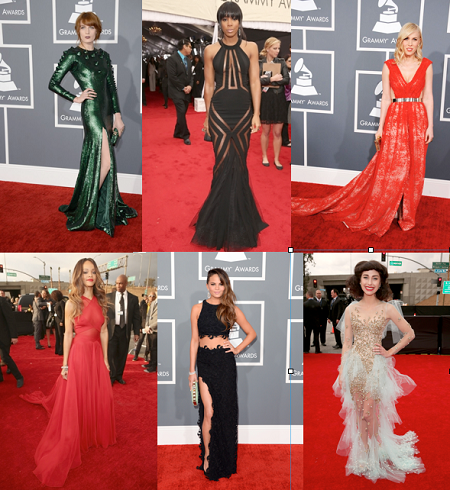 From left to right:
Florence Welch in Givenchy, Kelly Rowland in Georges Chakra, Natasha Bedingfield in Emerson, Rihanna in Alaia, Chrissy Teigen in Joy Cioci, and Kimbra in Jamie Lee Major.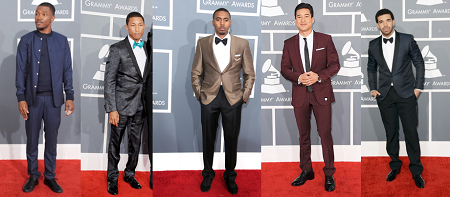 From left to right: Frank Ocean in Dior Homme, Pharrell in Lanvin, Nas in Brioni, Mario Lopez in unknown Maroon Suit and Drake in Saint Laurent.
Drum roll please…and the worst dressed are…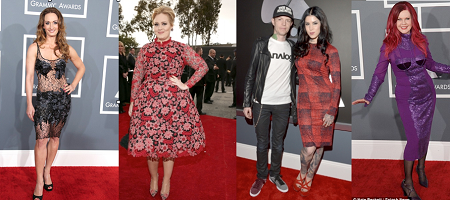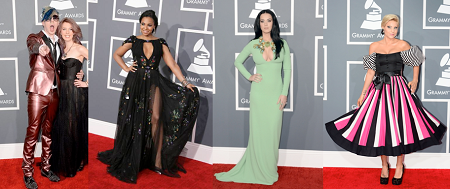 From left to right and top to bottom:
D'Manti– Where did the rest of your dress go?, Adelle– Too much dress. Kat Von D and Deadmau5– Seriously? A T-Shirt and miss-match shoes? You were suppose to miss-match the suit Deadmau5. Kate Pierson- I don't think I need to say anything about this, it speaks for itself. Josh Ramsay– Somebody got the wrong metallics memo. Ashanti– This could be a pretty dress, I just don't think it's working for you Ashanti. Katy Perry– I've seen Katy Perry on about 15 best dressed lists…What in the world is everyone thinking!? I hate the color and I hate the cleavage—too much. I can honestly say, I would rather see her in her Cupcake Boobs or Licorice dress than this. I love you KP, but you may need a new stylist. And, Lisa D'Amato– What is going on here? You may be a a super model, but this dress surely doesn't show it.
Well there ya go folks. I hope I wasn't too harsh…but somebody needed to say it. See ya next year!
Until next time,
Chelsey