Presented by Sherry's Angels Model Management and Entertainment, the first annual "Ice Ball Featuring Ice Angels Fashion Show" promises to give you goose bumps. This Saturday, February 16th, shop local vendors, experience the chilling Ice Angels Fashion Show, a belly dancing performance by Shauna Silber, and then show off your best dance moves at the 2013 Ice Ball. Benefiting Habit for Humanity in Broomfield, CO, this year's event will take place at the Classics Event Center in Aurora. Ice Angels Fashion Show designers include Erica Vallejo, Francis D Roces of Kimono Dragons, and Kindra Harris.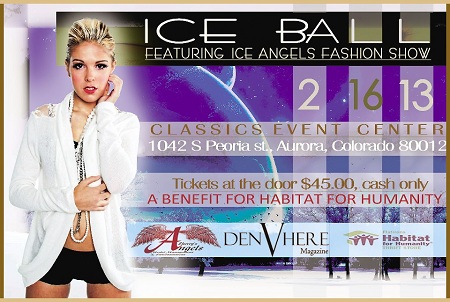 Participating models: Ksenia Bachkina, Ariel Painter, Karen Lindstrom, Allison Dees, Makayla Wetmore, Ali Henry-Brown, Audrey Swan, Rasa Leung, Charistina Armbruster, Savage Van Sage, Asheng Fien, Kimberly Mashek, Karmen Sandiego, Johanna Woods Jones (daughter), Amanda Rivard, Kelsey Schulz, Body paint: Melody Esler, Shyanne Autumn, Laray Winston, Guys: Ananias Ross, Thanh Brian Ngo, Marcus Wright, William J. Maestas, Gary Rickard, Brandon Slaughter.
Tickets: Pre-sale $35.00 with bag of clothing donation for Habitat for Humanity. To purchase pre-sale tickets email Sherry Rivard at thunderhoofs2@msn.com. $45.00 at the door. The Classics Event Center is located at 1042 Peoria Street Aurora, CO. Doors open at 5pm.
For more information visit the event Facebook page: http://www.facebook.com/events/116562421844255.