Remember British fashion designer John Galliano? In February of 2011, he was let go as chief designer from Christian Dior and arrested in a Paris bar because of his drunken out-bursts of anti-Semitic remarks towards the Jewish community. The only sighting, until now, of John Galliano was during Kate Moss' wedding in 2011. During this time, he was in rehab for alcoholism.
On Tuesday night, February 12th, John Galliano was seen leaving a New York apartment building with a friend, dressed like a traditional Hasidic Jewish man. He wore a long black jacket, pin-striped crop pants, a black bowler hat, a jaunty scarf with curly ringlet hair. Supposedly, he was on his way to the A/W 2013 Oscar de la Renta's Fashion Week show; in which he collaborated on. From this recent sighting of designer John Galliano, the Jewish community saw this display and, as reported, they felt as if John Galliano was mocking them. It seems as if the Jewish community has not forgiven John Galliano, and is still offended from his stunt in 2011.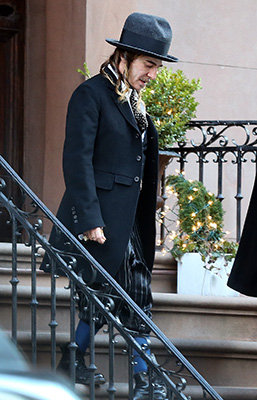 According to The New York Post, "He's trying to embarrass people in the Jewish community and make money on clothes while dressed like people he has insulted," said Williamsburg Community Leader Isaac Abraham.
It looks like the Jewish community was not impressed with his curly side locks resembling "peyos", a hairstyle traditionally worn by Hasidic men and boys from the Orthodox Jewish community. John Galliano's publicist, Liz Rosenberg, spoke to the Post saying these accusations are not correct. It's said that Galliano has worn this hairstyle before, and he was wearing the A/W 2013 Galliano menswear collection designed by Bill Gaytten.
According to Lindsay Heller, Psy.D., a Beverly Hills licensed clinical psychologist. Her reasoning for John Galliano's actions may stem from issues of him trying to deal with race and religion. He may be experiencing identity issues or feelings of remorse.
Personally, I think we all need to remember that behind the anti-Semitic remarks, he is an artist and a very theatrical designer. He may have been trying to say sorry to the Jewish people, and show them that he is not afraid to be a part of their community. As most designers may say, "any publicity is good publicity." What do you think?