Are you looking for a thoughtful gift idea, or do you have a sweet tooth that just will not quit? Well, there is nothing better than saying I love you with a special homemade treat, whether it's for a holiday or just because cookies can make any person smile. Husband cookies are a chocolate lover's dream. They're chocked full of different kinds of candy and a secret ingredient to make them extra soft and fluffy.
What you will need to make these delicious cookies?
1 cup of softened butter
2 eggs
2 ¼ cups of flour
1 tsp. of vanilla extract
1 tsp. of baking soda
¾ Cups of brown sugar
¼ Cup of white sugar
1 cup of milk chocolate chips
½ cup of white chocolate chips
½ of Reese's Pieces
½ mam's
1 box of vanilla instant pudding
In case you were wondering, the instant pudding is the secret ingredient. This really helps the cookies to continue to stay soft. Even after a few days, they will still stay moist. You can also add vanilla pudding to a regular batch of chocolate chip cookies and they will turn out great.
Step 1:  Preheat you oven to 375 degrees.
Step 2: Using a large bowl mix together the softened butter, brown sugar, and white sugar. If your batter is not completely softened, place it in the microwave for 20-30 seconds before adding the sugar.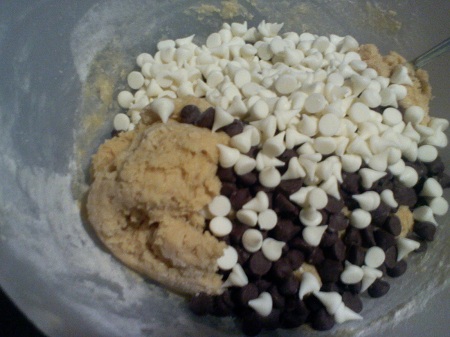 Step 3: Pour the vanilla pudding mix, eggs, and vanilla extract into bowl.
Step 4: Add the flour and baking soda to the mixture, stir as you are pouring it all in. At this point you should start to notice the mixture turning into dough.
Step 5: Now, for the fun part. Add in the chocolate chips, white chips, M&Ms, and Reese's pieces to the dough. Gently mix all of the candy into the dough.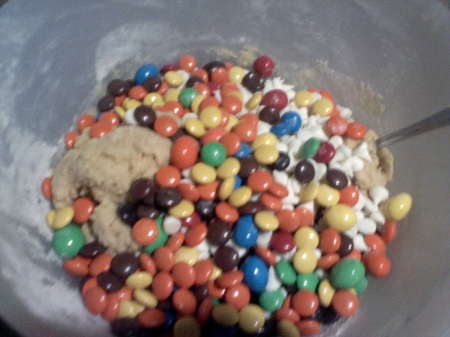 Step 6: Using a cookie sheet, start to spoon out the dough. It's best you roll them into a ball and then place on the cookie sheet. Place each cookie about two inches apart.
Step 7: Bake Cookies at 375 for 7- 10 minutes or until golden brown.
Step 8: After taking out the cookies, let stand for a minute or two and then place each cookie onto a cooling rack that way they don't continue to cook on the hot cookie sheet.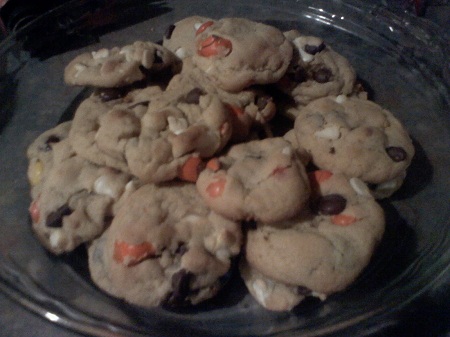 This recipe can make up to five dozen cookies, depending on how big you make each one. These cookies are absolutely delicious and easy to make. Now, if you have somebody you know who loves chocolate these would be a great surprise. Enjoy!