Get ready for another "Hump" from Mrs. Fergie Duhamel! The Black Eyed Peas singer Fergie and actor Josh Duhamel have shared the exciting news that they will be expecting their first child. Almost immediately after finding out the news, Josh shared the message via Twitter and Facebook posting this status, "Fergie and Me and BABY makes three", while Fergie tweeted "Josh & Me & BABY makes three!!! #mylovelybabybump."
Fergie is so excited for the baby that she superimposed childhood pictures of herself and Josh Duhamel to accompany the news.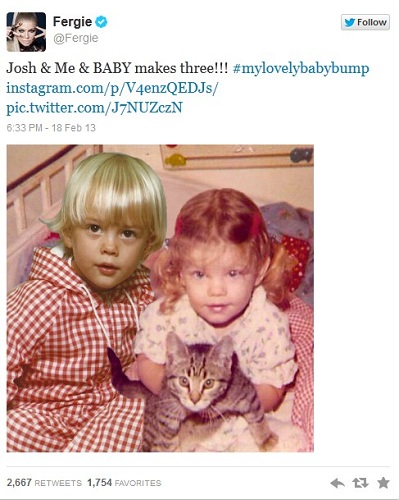 Fergie and Josh Duhamel spoke about their desires to someday have children during an appearance on "Oprah's Next Chapter" back in October 2012. Duhamel said he would like to have five children, but the couple negotiated down to two. It seems the two grew up in very similar ways, making it easy for them to have the same lifestyle views.
"My mother was a teacher. Both of her parents were teachers. We both had to work for what we got. We're both Catholic…There were a lot of things that were really compatible between us. But at the end of the day, she's just an amazing girl," says Duhmel.
We at FCF want to congratulate the happy couple on their first child!
Facebook shout outs go to: John Jablonski of Brighton, Colorado. Thanks for reading!