On Thursday, February 14th, Marc Jacobs showed his fall/winter 2013-14 line at New York Fashion Week. This line was chic and sophisticated. Jacobs focused on simplistic silhouettes with fantastic style lines and designs that really caught the eye. The production was centered around a giant light that looked like a moon, which lit up the runway and made the garments glow. Neutral, metallic, and furs were used throughout the collection, creating a lot of texture.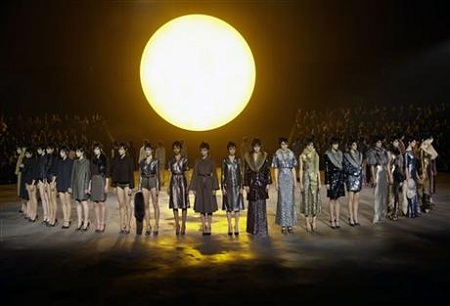 The fashion show was interesting and very unique. The runway was in the shape of a giant circle and at the end of the presentation all of the models surrounded the audience. This was a great way to end because everyone attending could get one last look at each design.
Fur jackets and accessories were used frequently throughout the show. The shawls and scarves had animal heads, which really added an interesting aspect to Marc Jacobs' design aesthetic. Balancing out the drama, the models had a natural look. Each model had short dark haircuts and dark eye makeup.
The line included lounge wear designs, short fitted dresses, long boxy trench coats, and new length fur coats. This was a large variety of clothing in one line that had pieces to fit anyone's personality. This production was overall a fantastic part of New York Fashion Week, and was a great representation of Marc Jacobs' talent.
Watch it for the first time, or watch it again!