On Saturday, February 16th, Sherry's Angels Model Management and Entertainment presented the first annual Ice Ball Featuring Ice Angels Fashion Show. The show took place at the Classics Event Center in Aurora and benefited Habitat for Humanity located in Broomfield, Colorado. The night was filled with fabulous designers, models, and entertainment in a venue covered head to toe in chilling decor. The event was sure to keep you entertained by offering a plethora of food and drinks while being able to converse with fellow attendees, shop local designs, and enjoy the action of the glamorous designs being strutted down the catwalk.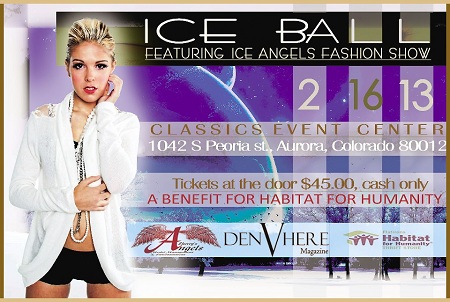 The night was started off with a belly dancing performance by Shauna Silber and her talented team of performers. Following the act was the first local designer, Erica Vallejo. The designs were a collection of formal gowns perfect for a glamorous event, and fit the theme of the event perfectly. The designer utilized white, shades of blue, and the always beautiful element of glitter to her silk floor-length ensembles. Paired with a set of wings and outrageous make-up, the models truly looked like angels.
Next up was the extremely talented local designer Francis D. Roces with his team of Kimono Dragons models. His collection was a compilation of edgy, and fabulous men's and womens's designs. Francis utilized a variety of patterns, fabrics and styles in order to create a high fashion and unique feel to his collection. One of my favorite designs was  a black, gold and red, vest with an oversized collar. The design included Francis' inspirations by having a touch of his Asian heritage running through the gold printed collar and, at the same time, incorporating a punk rock edge with plaid and pin-stripes. The team at FCF was lucky enough to score an exclusive interview with the designer after the show, in which he revealed his line was inspired by Alexander McQueen, nature, and punk culture. He also shared that his interest in participating in this particular show was his desire to support other local designers in the area!
Last but, definitely not least, designer was the lovely Kindra Harris and her team of Love Hertz models. Kindra created some of my favorite looks of the night with lace, hooded dresses, and fur detailing. One of my favorites was a lace long sleeved mini dress complete with beaded detailing around the collar. This trendy and gorgeous dress could be worn for a formal event or a girl's night out on the town.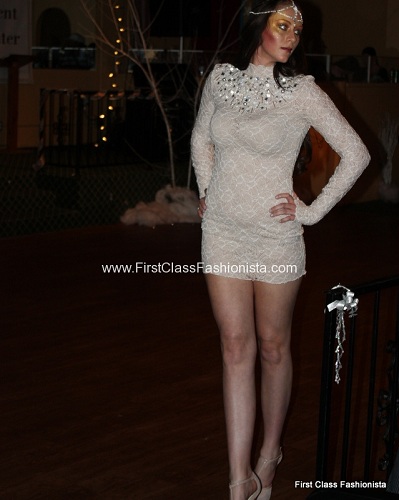 The team at FCF would like to formally thank the Sherry's Angels Model Management and Entertainment team, and the fabulous designers who participated, Erica Vallejo, Francis D. Roces and Kindra Harris. In addition we would like to thank the team of beautiful Denver-based models which included; Lauren Hogue, Jessica Thommes, Summer Kirkpatrick, Carly Emerson, Jade Jones, Ariel Painter, Karen Lindstrom, Allison Dees, Makayla Wetmore, Ali Henry-Brown, Audrey Swan, Charistina Armbruster, Savage Van Sage, Asheng Fien, Kimberly Mashek, Karmen Sandiego, Johanna Woods Jones, Amanda Rivard, Kelsey Schulz, Body paint: Melody Esler, Shyanne Autumn, Laray Winston, Guys: Ananias Ross, Thanh Brian Ngo, Marcus Wright, William J. Maestas and Gary Rickard.
Make sure to check out the photo gallery below! And, feel free to share the pictures you adore.
Ice Ball Fashion Show