Recently, one of my guy friends came to me and said "I'm not romantic," this in fact being a true statement. He wanted to have a romantic evening with his girlfriend but needed some serious coaching. I know there are those guys that excel in romantic things but I would risk to say that the majority of guys need assistance in the romance department. As my readers know, I am a HUGE list person! I like to lay tips and rules out in a simple listing format, that way all my readers don't have to sift through paragraphs to find the key information. Thanks to all my female friends, this tip list, though coming from a guy, is still relevant. These tips cover a romantic date night at home. Although going out, and having date night is perfectly okay, staying at home or inviting your date over allows you to control the flow and atmosphere of the date.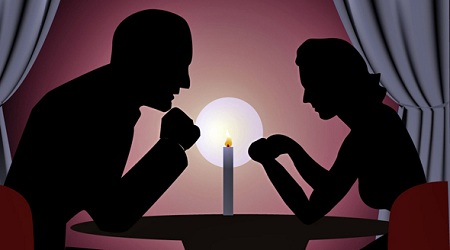 Do the don'ts– I'm sure many of you have heard your significant other say "I don't like flowers, I don't want a party, I don't want an expensive dinner." According to my girls, this is FALSE. Many women say they don't like those things because they don't want you to feel obligated to do them. But here's my advice, do it anyway. As corny as it might sound, girls enjoy being treated special. So to begin your romantic evening, stop off at the florist and/or your local supermarket and pick a petite bouquet. If in doubt ask the florist. However, if in the course of your relationship, she expresses a hatred of a certain flower, DO NOT GET THAT FLOWER!

Prepare the date area– Assuming you have an at home date, you, as the host should prepare the household. First order of business is to CLEAN. The house needs to be spotless, too much filth or clutter can take away from the romanticism of the evening. Plus cleaning the "date space" shows her that you went to great lengths to make sure she had a good time. The "date space" is an extension of you and if it's dirty and gross, your date might not see you as the perfect date. Next is to take that CLEAN, blank canvas and turn it into an artful dream. Create a romantic ambiance. Set the mood by appealing to her sense of sight, hearing and smell. There is one thing that can take care of two of these senses. Candles. Candles are a romantic cliché but are super effective for setting the mood. The term "mood lighting" applies 100% to this situation. Dim lighting has always been correlated with romance. Five candles max, two candles minimum. But don't let these candles be your only light source. It sounds stupid but trust me this stuff happens. The goal is romantic dinner for two, not horror movie dungeon. Music is tricky. Since I'm guiding you to create a dream-state date, the music shouldn't be too fast or too up beat. Whenever I think of romantic songs, I think of the piano or the acoustic guitar being played. Some songs that I recommend are "Halleluah by Rufus Wainwright, "She Will be Loved" by Maroon 5, and "A Thousand Years" by Christina Perri. The music should be played at a soft volume allowing conversation to take place.

Dinner– The ideal situation is that you make dinner. However, having many guy friends that burn Ramen, this might prove to be a challenge. So instead of making dinner, order take out from a restaurant and pick it up on your way home. Turn the oven on very low and pop the food in there if it starts to get cold. DO NOT MICROWAVE. Not only does the food lose moisture but the texture changes, making food dry and rubbery. So if you can cook, you should be cooking, if you can't, now is really not the time to experiment.

Dessert– The reason I separated dinner and dessert is that dessert is a whole other can of worms. Dessert should be something special to your significant other. Be that homemade chocolate chip cookies or store bought cheesecake. Dessert can close the night gracefully. You should break out the dessert a half hour after you have eaten, allowing for some conversation time.
I want to hear from my readers! What is something romantic that has been done for you! Let's help all those clueless guys out there throw a true fashionista date night!