First Class Fashionista would like to invite you to shop:
Discount Designer Clothes
Discount Designer Shoes
Discount Designer Handbags
*BOOKMARK THIS SITE for Updates* RIU Montego Bay Resort Review
RIU Resort Review Montego Bay, Jamaica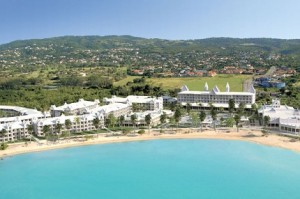 I alerted many of the RIU Resort Montego Bay, Jamaica staff members that FCF was on location to do to do a site review.
RIU Montego Bay, Jamaica opened on August 29, 2008. *Not Recommended.
*Alternative Resort Recommendation: Sandals Montego Bay, Jamaica is Highly Recommended by FCF. Here is where you can tell thousands of visitors what you think. Share a comment about your experience / upcoming trip.
* What We Liked About the RIU Montego Bay, Jamaica:
The rooms are clean and the beds are new. The all inclusive rooms are stocked with liquor, soda and bottled water. The pool and swim-up bar are inviting, and the steak and shrimps are delicious:) FCF also enjoyed the Negril tour / trip leaving from the hotel. *We believe the tours are reasonably priced.
*Service: Poor
Day 1: Arrival
At the Montego Bay Airport, FCF is made aware that the RIU does not have a shuttle. FCF paid $20 US to take the shuttle to the resort which is only 1 1/2 miles from the hotel (less than 10 minutes). *Many resorts provide free shuttle service to and from the airport. Later, after talking to guests of the RIU, we find out the shuttle to and from the airport must be prearranged by your travel agent.
At the hotel, we are checked into a room and given stickers with an assigned room number to make it easier for the bell hop to identify our luggage. BUT just as the bell hop reaches for our luggage, the very soft-spoken receptionist tells us she has checked us into the wrong room. I watch her as she consults with her staff members. They discuss our room assignment as we literally melt in the RIU lobby. IT-IS-HOT! She eventually returns to the front desk (where we are waiting) with a new room. For the inconvenience, we ask for an upgrade. The hotel refuses to accommodate us. She instead insists we have a good room. She then puts our all inclusive bands on our arms- The bands we weren't given the first time around! Finally, we depart from the front desk and return to wait with our luggage for the bell hop. We wait…We wait…And we wait. No bell hop! Guest begin to drag their own luggage to their rooms, so we do the same. It's hot and our room is in the 500 building in the rear of the resort.
That evening, we are told there is a free shuttle to Margarita Ville at 7, 10, or 11 PM. We show up just before 11 PM. Another couple is also waiting. What we think is the free shuttle, shows up late. We board the shuttle but the driver says it is not free. He wants $20 US. We get off and "guest relations" are as confused as we are, so they arrange for a cab to take FCF and the other couple to Margarita Ville for five dollars per person. *Warning the hotel will not protect their guest from being grossly overcharged by the taxi drivers. From the RIU Resort Montego Bay, Jamaica-You will be charged a minimum of $40 US round trip.
Day 2: *Dining Reservations Full
The first evening at the resort, FCF tried to make a reservation at one of the resort's three featured restaurants but we were told reservations for dinner can only be made between the hours of 10 AM and 4 PM and reservations must be made in the hotel lobby-not by phone. Returning to the reservation desk around 10:30 the next morning, we were informed that all of the three featured restaurants were booked for the evening. We were told, however, we could go to the 9 PM seating to see if there were any cancellations. That night we went to Pier 1 restaurant for dinner. The jerk salmon was delicious. * If you miss a scheduled meal time, don't expect to find hot food anywhere on the resort.
Day 3
1. We realize our refrigerator isn't working ( it never gets fixed properly).
2.
That evening, because we have a late 9 PM reservation for dinner, we show up at the 7 PM seating around 7:45 to inquire about cancellations. We were initially told by Alton Salmon there were no cancellations. At first we were okay with what we'd been told, but standing outside of the restaurant hungry, I realized there were at least 10 unoccupied tables. So I figured I better make Alton Salmon aware that we did have reservations for the 9 PM seating and I didn't understand why we couldn't be seated. Out of his many excuses, this one: "We can only seat 50 people per seating", BUT the restaurant was half empty!
*After speaking to another guest, it seems this is a very common scenario. Expect to be told the dining reservations are booked your first (or even second) evening and don't expect any cancellations. I am definitely wondering does this have anything to do with the resort not wanting to fulfill the "all inclusive promise"? What do you think? * If you miss a scheduled meal time, don't expect to find hot food anywhere on the resort-at least we didn't. *Unfortunately, FCF was not given (or made aware of) a resort tour.
*Entertainment: Above Average
Day 4:
*The entertainers at the RIU are very talented. The actors / actresses practice daily and I really enjoyed the Micheal Jackson show! At the show, however, the table service was very poor. The waitress seemed to intentionally try to avoid our table. FCF really was not sure why. I wondered did this also have to do with the "all inclusive issue" or was there another reason…(omitted to uphold review validity)?
That same evening, we were having dinner at the resort's Steak House and I experienced similar service. The water glasses / wine glasses were topped off by the attending waiters but our table seemed to be avoided. FCF confronted the waiter with no real resolution as to why this sort of behavior was taking place.
Day 5:
FCF had a great time shopping and dancing.
*Day 6: Hotel Departure
FCF calls for someone to help with our bags. After waiting about 45 minutes, we drag our bags across the resort in the scorching heat. Standing in the hotel lobby, trying to figure out how we will get to the airport, a large air conditioned shuttle bus pulls up. We are charged $18 US to go to the airport (the airport is less than 10 minutes from the hotel). *Many resorts provide free shuttle service to and from the airport.
---
Relevant Popular Search Hits
Riu Montego Bay Reviews
Riu Montego Bay Staff
Riu Montego Bay Hotel
Riu Montego Bay Jamaica
Riu Montego Bay Resort Review
Riu Montego Bay Food
Riu Montego Bay Entertainment
Riu Montego Bay Shuttle
Riu Montego Bay Service