It's always fun to incorporate some sparkle and shine into your ensembles. This winter, many fashionistas feel as though they've exhausted the sequin seasonal trend and have chose to move to embellishing outfits with a more classic and simple flare; red hot heels. Adding a pair of fabulous red heels to your attire is an affordable way to embrace current fashion trends, without breaking the bank. Instead of buying entirely new sequin covered pieces, try simply investing in a killer pair of crimson heels that can be worn on many more occasions to come!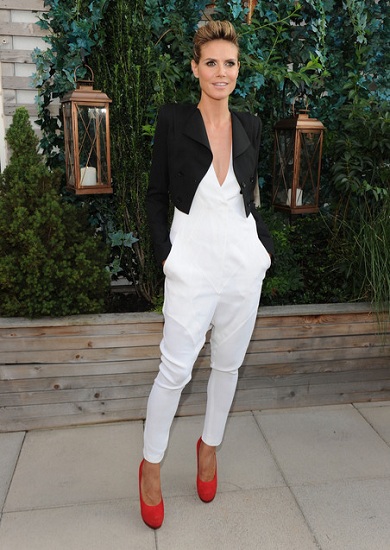 Since red is always trendy during the winter season, several of our favorite Hollywood stars like Heidi Klum are also rocking chic crimson heels as well. This stylish and fun embellishment can be worn to more casual nights out or can be dolled up for a hot dinner date with your beau. Choose a red lipstick to give your party look a further red hot flare!
Recently, I purchased a ruby red pair of Jeffrey Campbell Foxy Spike heels and I've absolutely fallen in love with them! They are the perfect complimentary pop of color to be added to any ensemble for a night out on the town, or to give a more formal look a fun and trendy edge.