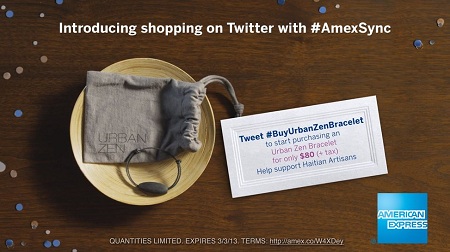 Innovation seems to be happening at lightening speed these days, especially when it comes to information technology and its revolutionary capabilities. The world is changing, and it's changing fast. Is everybody keeping up? As you know, First Class Fashionista loves nothing more than to know it first, try it first and share it with you, our valued readers, first! As a leading industry insider, we'd like to introduce you to AMEX Sync. With AMEX Sync, American Express Cardmembers can now enjoy special offers and make purchases via Twitter!
How it works:
AMEX Sync Sign up– Sync your eligible Amex card with Twitter at: americanexpress.com/twitter. Your information will be kept confidential and secure. Make sure you continue to follow AMEX Sync for hastagged special offers.
Redeem Special AMEX Sync Offers– Tweet the offer with the hashtag, make the qualified in-store or online purchase, and your AMEX statement will be credited with the savings.
AMEX Sync Purchase– To make an Amex Sync product purchase, just tweet the special product hashtag, confirm the order, and it will be delivered to you.
To celebrate the newly launched AMEX Sync, American Express teamed up with Donna Karan and her inspiring Urban Zen charity to support the Haiti Artisan Project, an initiative to help develop, market and present Haitian craftsmanship to the western world. Exclusively available via AMEX Sync, on Twitter only, all limited edition Urban Zen bracelet purchases will benefit the Haiti Artisan Project. This skillfully crafted bracelet was designed by Donna Karan herself, and handmade by artisans in Haiti. So fashionista, if you're an AMEX cardholder, supporting a good cause is just a fashionable tweet away!
We want to hear from you. Will you shop on Twitter?