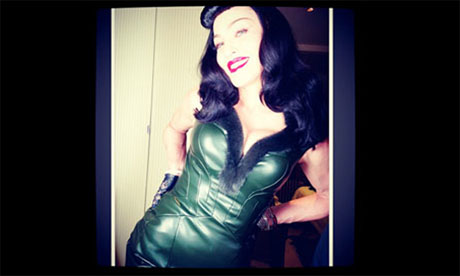 Hello Madonna,

It has come to our attention that your account on Instagram has violated our Community Guideline…In short we ask that you: Don't share photos that aren't yours…It is important to note that continuing to violate these rules may result in a disabled account, without warning.

Thanks,

The Instagram Team
This is an excerpt of the notice that was sent to Madonna regarding her Instagram account a few weeks ago. According to a source, not only did she not learn a lesson from this warning, but she posted a screenshot of the warning on Instagram. Supposedly, the 54 year-old pop icon received this notice after posting semi-revealing photos of her breasts and butt; along with photos that resemble the Spanish artist Frida Kahlo, in which Madonna did not to own, but seemed to try and pass them off as herself. Another surprising detail about this controversy, Frida Kahlo died four years before Madonna was born. In this photo, she is wearing an Altuzarra forest green poly-leather and a mink cap-sleeved "Tribeca" dress. Apparently, this dress was worn to the 85th Academy Awards After Party on Sunday.
Currently, Madonna has more than 170K Instagram followers. Hopefully for the Instagram fans, this pop icon will respond in defense and have a great answer for this shocking news. Check out the screen shot below! What do you think?