The fashion world's newest it-girl, Cara Delevingne, landed yet another project this year. As if strutting her stuff for nearly every major runway show this season and several covers of Vogue wasn't enough, she has now landed the Burberry Body Tender fragrance campaign.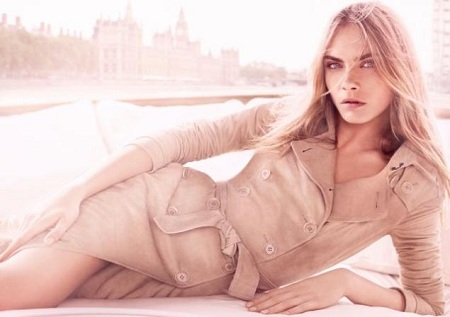 For those who don't know who the 20-year-old model is, the lovable beauty was awarded Model of the Year at the 2012 British Fashion Awards. Not to mention, she was rumored to have a previous flame with young heartthrob Harry Styles. The girl is outrageously gorgeous and absolutely hilarious, I would highly recommend YouTube-ing some interviews of her.
Miss Delevingne has posed for Burberry campaigns before, but being the face behind the fragrance is definitely a step up! The new perfume for Burberry, "Burberry Body Tender", is part of Burberry's BODY collection. In the new ad, the model can be seen rocking the classic Burberry trench coat (with nothing underneath) while her blonde locks blow in the wind.
With so many previous and upcoming appearances in our favorite fashion magazines, runway shows and even the occasional tabloid, Cara will be a name on everyone's lips for many more seasons to come. Make sure to check out the video of her new Burberry campaign below!
And if you feel like falling in love with the gorgeous Brit, check out her hilarious interview from a few years ago with imavillagebicycle.com here.