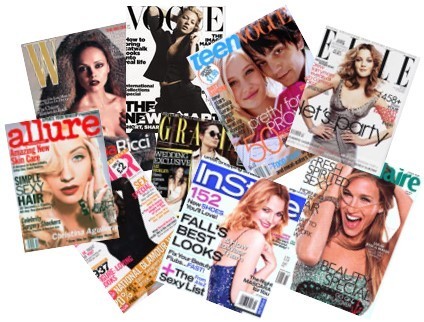 Fashionistas all over the world are constantly purchasing, downloading, or tearing pages out of numerous fashion publications. Everything from Vogue to People have a major influence on the public's fashion. The problem is when most people pick up a magazine, they really don't know how to truly LOOK at a magazine. I know several people who ACTUALLY skip over the fashion advertisements. Attrition. Before I actually had a degree in fashion, this is how I would read the magazines, and I had no idea why people were so obsessed with these silly magazines. So, I decided to write an article explaining how a fashionista SHOULD read a fashion magazine.
Pick the right magazines– We all know gossip magazines like Cosmopolitan and People are fabulous magazines when you're trying to get the scoop on what celebrity did what where, but when you are looking for the latest and greatest fashions you need to put the gossip magazines down. Magazines like Nylon, Vogue, and WWD are three magazines I would recommend reading. Both Vogue and WWD are HUGE publications in the industry and are constantly staying on top of what is fashionable. Vogue also brings a little more celebrity news than WWD making it one of the most successful publications in the world. Nylon is slightly more street style. Focusing on the art and fashion of a less elitist sect of fashionistas. I am a personal subscriber to Vogue.

Sifting through ads– Most people pick up a magazine to pass the time. NO. Always pick up a magazine with an open mind and a direct purpose, otherwise you turn into the page flipper that sees the pages but comprehends nothing on them.  A goal for example would be to see what patterns all the new designers are putting in their collections. Then take notice of the ads and really "see" what the designers are trying to show you. For example, Louis Vuitton's new lines feature a bold checkerboard print with a boxy yet sexy silhouette very reminiscent of the 1960's. The hair and makeup of this ad really supports my conclusion that many of the designers I will be looking at will exhibit trends inspired by the 60's. Analyzing ads is very meticulous and time consuming. But just a two page spread has given me all I need to know in order to be considered fashionable. DO THIS WITH EVERY SINGLE AD. Even though it will take a while, each picture you look at is worth a thousand words. And by the end of that Vogue you might actually have some insight as to what to expect in the upcoming collections and seasons.

Don't be discouraged. It's possible– With today's massive fast fashion, I know SO many people who become mindless page flippers because they say "I can't afford that" or "That only works on models", blah blah blah. First I can almost say with certainty that many readers can't afford those things either. Now it's your turn to be a fashionista. Take what you have perceived from the magazines and apply it to your wardrobe. If you hate bold checkerboard print, then maybe you can find something with accented checkerboard print or if you hate it all together, DON'T wear it. Just because one designer has a check print doesn't mean that if you don't wear it you CAN'T be fashionable. Pick a different trend. The fashion industry is HUGE and as patrons of fashion you all have so many options. And trends you see in Vogue being created by people like Louis Vuitton, WILL be in Target, H&M, Zara etc.

Look to other sources– All my readers should know where to look for fashion advice. HERE! I can tell you with absolute certainty that many of us here at First Class Fashionista read a wide range of publications, and we all have our own personal style. But if you don't have time to sit down and read magazines and scan for the hottest trends, COME HERE, it is our job to know these things!
If you are having trouble telling what the hottest trends are, LEAVE A COMMENT and FCF will help you become a master of the magazine.