On Friday, March 15, 2013, come out and experience a designer's love affair with fashion and the city. Rachel Marie Hurst's first solo fashion show, "From New York to Paris with Love", will unveil new "Rae Marie" designs for Spring 2013, and debut the highly anticipated "Rachel Hurst" collection. Presented by Skyy Vodka and hosted by J. Wakeen of Unique Styles, the event will take place at Suite 200, located at 1427 Larimer St. in the historical LoDo district of Denver, CO.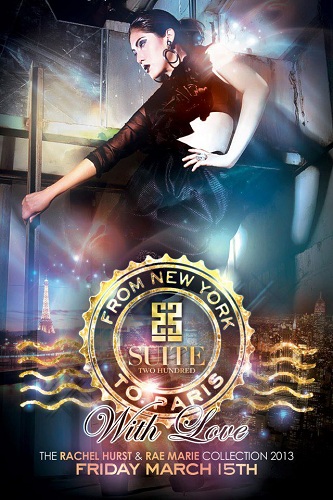 We asked the designer, fondly known to many as Rae Marie, a few questions about what we could expect to see on the runway.
FCF: What can we expect to experience?
Rae Marie: This show is really about my evolution as a designer and my love affair with the city. Rae Marie and Rachel Hurst are set up to be sisters. They have distinct styles but sometimes shop in each other's closet. It will give you a sense of where I am coming from, and where I plan to take my company in the future.
FCF: What is the working concept for the Rachel Hurst collection, and how does the collection differ from your Rae Marie designs?
Rae Marie: Rachel Hurst is more business oriented and a little more chic where Rae Marie is fun and a little bit more flirty and daring. Both will still incorporate what I am known for, but each collection will have their own twists on them.
FCF: Tell us about the prints and colors that you went with for Spring 2013.
Rae Marie: I focused on some really cool feeling prints that would give the viewers a sense of an urban jungle and wanted to keep the colors injected into the collection.
Rae Marie told us that she is super excited to be sharing her collections with everyone and grateful for all the support. She wanted to formally thank those who helped make it all possible- "I have a great Team on Board helping out: J. Wakeen of Unique Styles is producing the show, Suite 200 is providing the venue, Skyy Vodka is a sponsor, Chanelle Nicole has been helping to organize the show, Crystal Gardner is styling and promoting the show and has been such a huge asset, My Business Partner Andrew Machol has been doing all of the behind the scene stuff, Cha Cha Romero with the Vanity Dollz will be providing hair and make up—and we Have Some AMAZING Models lined up for each collection."
Rachel Hurst Runway: Corina Walsh, Jasmine Schutt-VanMeveren, Marcia Szarlej, Autumn Mitchell, Antoinette Martinez, Yogi Patterson, Keis Muhammad-Timm, Princess N, Dana Lee and Charistina Armbruster. Rae Marie Runway: Ramona Mateas, Suzie Kaufman, Hannah Heurlin, Kim Vu, Lauren Hogue, Savana Ray, Maya McDowell, Amira Ababio, Simone Johnson, Karen Muniz and Morgan Taylor.
For more information or to add your name to the guest list, contact Rachel Marie Hurst at http://www.rachelmariehurst.com/contact . 21 and up. No cover. Show starts at 10:30.