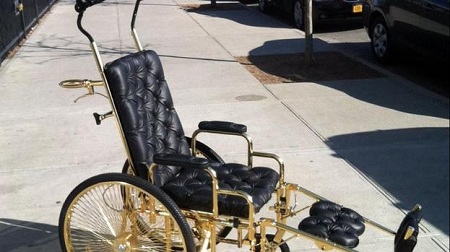 After canceling her Born This Way Ball Tour, due to her recent hip surgery, Lady Gaga is wheelchair bound, but she will not let that hold her back from her glamorous life. When seen leaving her N.Y.C hotel, it seems she has traded her previous wheelchair named Emma, for a 24-karat gold plated wheelchair!
Jewelry designer Ken Borochov of the luxury brand Mordekai, designed this unique chair especially for our very own Mother Monster. Lady Gaga previously worked with Borochov during her fragrance launch, to create the gold claw. The chair is plated with 1.5 ounces of gold, it has a tufted black leather seat (inspired by leather jackets), a removable leather canopy and the chair can recline all the way back!
According to a source, Borochov calls it "the chariot, a chair fit only for a queen". It seems this chair was a huge undertaking for the jewelry designer, he said, "It was made all over the United States, my assistant had to run around everywhere." Although there has not been a disclosed price for the chair, it is estimated to be worth $2,600. Borochov's celebrity clientele includes, Kanye West and Nicki Minaj.
Some people are not a fan of this glamorous wheelchair. People are calling it "a publicity stunt" and say Lady Gaga is "glamorizing disabilities". This is not the first time Lady Gaga has been involved in a wheelchair controversy. During her Sydney show in 2011, she took stage in a wheelchair and was egged by fans who felt the stunt was offensive.
On a much higher note, Lady Gaga was not the first star this year to make style out of an injury. During the 2013 Oscars in February, Kristen Stewart showed off her crutches while wearing a Reem Acra gown.