Last Friday, March 15, 2013, First Class Fashionista had the pleasure to attend Rachel Marie Hurst's first solo fashion show, "From New York to Paris with Love". Upon entering Suite 200, I swiftly picked myself up with a red bull-vodka and put my game face on. This was my first event and article with FCF, and I am going to be completely honest: I got a little excited to see my name on a runway seat.
I went backstage and spoke with Rae Marie before the show and we enjoyed a quick chat. I could feel her excitement radiating in every direction. She was understandably ecstatic and at a lost for words. Rae Marie explained that the collections were inspired by New York City. She loves everything about the city and incorporated New York street wear with 80's glam. The Rae Marie designs and Rachel Hurst collections, she revealed, are to be seen as "sisters". They both have their own unique style but borrow from each other. Rae Marie is sassy and flirty, while Rachel Hurst is chic and business oriented. For the future, she will be introducing menswear and plus size collections in the near Fall 2013 season.
The energy was top notch from start to finish. The audience was bouncing to "With Ur Love" by Cher Lloyd, "Eat You Up" by BoA, and "Wings" by Little Mix, just to name a few of the awesome tracks played during the show. Approximately 200 people surrounded the stage, and the magic began.
The first segment of the show was the Rae Marie collection. Satin, chiffon, and sequins were used for this funky-flirty collection. Fitted silhouettes, circle skirts, and belted waistlines trended through the compilation. For the edgy party girl, she included graphic leggings and harem pants. There was even a surprise faux fur dress in the collection—for the extra daring. Color, color, COLOR! The line utilized lots of fuchsia, plum, and neon yellow. It all came together with a unique styling of bold prints. Check out this strapless sweetheart bodice with peplum top paired with a graphic circle skirt!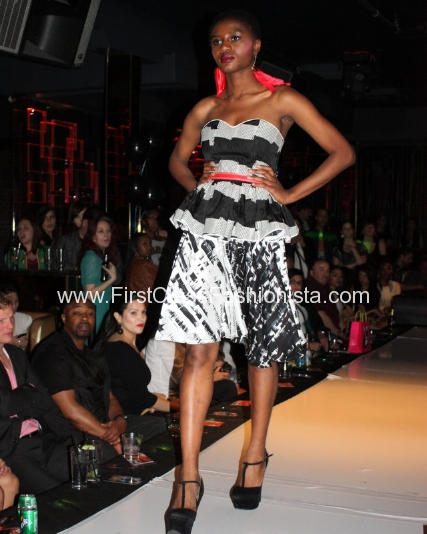 The second portion of the show was the Rachel Hurst Collection. I'm going to call this style "Business Fabulous". It was chic and edgy. Some of the pieces I could see in a business setting or as a great office-to-dinner look. This collection uses lots of black and white but combined bold prints, including leopard, polka dot, and ikat. They pack a punch with seafoam green or burgundy pop colors and faux leather details. One of my favorite garments in the Rachel Hurst Collection was this open back dress that had a boat neck and circle skirt.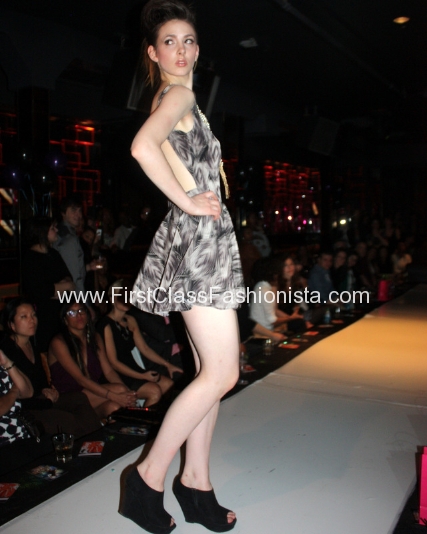 She also did a really awesome sleeve design on some of her garments by attaching rosette circles to the shoulder and arms eye. It was like a fresh Rae Marie take on the flutter sleeve. This killer full-length leopard print dress needs to be in my closet NOW.
After the show, Rae Marie was sporting a 10-mile-smile. She gave me a warm hug and I did my best not to poke my eyes out with the wicked spikes on her shoulders. She invested countless hours of hard work and dedication into creating her collection, but she said "the best part is seeing your story come to life." After a successful show, we can look forward to the launch of her ecommerce site! The ecommerce portion of her website will be launching Friday at www.rachelmariehurst.com. Sign up for the Fashions by Rae Marie newsletter. She will be offering free shipping and coupons for the opening week! But watch out ladies, I call this little number!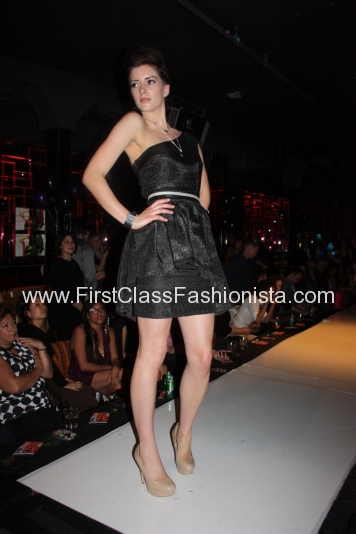 Enjoy the pics shot by FCF Blogger Nicholas B, and video by our resident videographer! The World Wide Web is all about sharing, so share, share, AND share!
Behind the scenes photos…

From New York to Paris with Love runway photos…