There are only three more nights filled with theme inspired fashion, extravagant hair styles, and dramatic make-up! Almost every Tuesday, from February 26th through April 16th, local salon professionals are competing for a $1,000 cash prize. Within the competition, each salon has three models showcasing their uniquely, themed hair designs. One is selected each week for a chance to receive a $250.00 cash prize and a contract with a top modeling agency. The judging is based on 4 factors: Creativity, Hair Technique, Crowd Response, and Costuming. The salon that completes the series and amazes the judges throughout the competition will receive a photo shoot from a hired photographer, in addition to the cash prize! How Exciting!
Who: Presented by Ciroc Vodka. See local salon professionals dramatically express selected themes through the art of HAIR!
What: Shear Styles 2: Hair Show Competition
Where: Suite Two Hundred: 1427 Larimer Street Denver, CO 80202
When: February 26- April 16th, doors open at 9pm, show starts at 11:30pm.
Why: The question is why not! You deserve a night out! So grab your friends, support local hair stylists and their salons, while watching an amazing presentation of fashion, hair and beauty!
The dates for the shows are as follows:
Tuesday, February 26th Theme: Into the Wild
Tuesday, March 5th Theme: Under the Sea
Tuesday, March 12th Theme: Spring Couture
Tuesday, March 19th Theme: Inspired by a Movie
Tuesday, March 26th Theme: Inspired by a Designer
Tuesday, April 2nd Theme: Abstract
BI WEEK, April 9th Theme: NO COMPETITION
Tuesday, April 16th FINALE *During the finale, finalists will be told on March 26th the theme, creating a fair advantage!
Featuring:
BabyDoll Tuesdays, LADIES DRINK FREE from 9pm-12am
Sexy Sounds by Resident DJ Bedz
Customized Birthday Parties
Celebrity Hosts
Local Athlete appearances
Celebrity DJ's
The competition is still booking salons and models for the event. If you are interested in participating in the hair show contact:
Chanelle at Chanelle@lutusclubs.com
To make reservations call: (720) 560-4433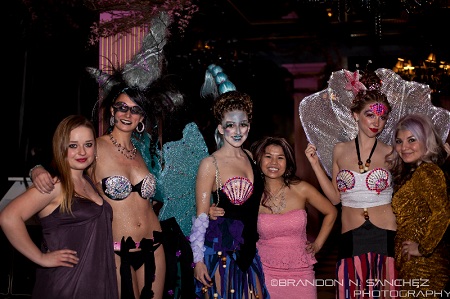 FCF Blogger and Hairstylist Marissa Lundeen had the opportunity to compete Tuesday, March 5th during the Under the Sea themed show.
The night started early around 3pm, when my lovely team from Lavish Beauty Salon, including Lien Phan and DaNette Maynes, prepared our three beautiful models Joelle File, Janice McClain and Melissa Rankin for the long night ahead. Prior to the show, Lien, DaNette and I planned our models' hairstyles, props, ensembles and make-up weeks in advanced. In addition, the models wore my Inside Out Collection from The Art Institute of Colorado, Senior Collection of course.
When we arrived to Suite 200, we had a reserved space in the Marquis Room. In this room we finished the final touches to our vision of The Little Mermaid to match the Under the Sea theme. In conclusion, the night was a success! Our models worked that runway, while maintaining the extensive hairpieces and elaborate costume designs.
The winning salon of the night went to Nameste Pure Design Salon! We look forward to seeing them at the finale April 16th. Enjoy the video and pics!!!
Video by: Molly OConnell

Photography by: Brandon Sanchez