Can You Find Fame on Youtube?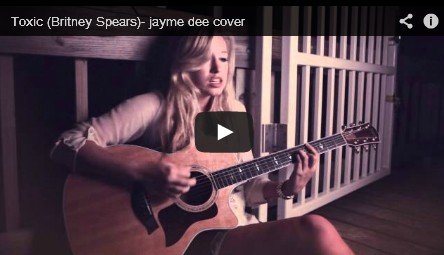 What do you get when you mix a guitar, a video camera, and a relatively decent voice? INSTANT YOUTUBE SENSATION. Well, maybe not. The truth is, 48 hours worth of video are uploaded to Youtube every minute. That's 8 years worth of video per day. So the chances of you getting famous off of a few homemade clips is pretty slim, but a handful of talented individuals have managed to build up a large enough fan base to distinguish themselves from the site's hundreds of millions of users worldwide.
When I was younger I made this secret hobby out of searching for up and coming youtube artists (mostly cover and acoustic artists). Having grown up during the rise of singing competition shows like American Idol, I developed a fascination for under the radar singers—average people with amazing voices. My interest was most likely due to the fact that I could not sing, though for a time I had it in my mind that if I learned to play guitar a voice would magically develop. Huge fail. However, the naturally gifted individuals of the 21st century have turned to the internet to share their talents publicly. Some have even been offered record deals as a result of their promising posts.
It is common for Youtube artists to cover current pop songs, not only because it will get them more hits, but also because it is an opportunity to reinvent an already popular song. If one happens to make a better or vastly different version of the original, they will most likely be recognized for it. Sure, the songs may not be their own, but reinvention can certainly be a tool for originality. Just look at fashion. Designers are constantly taking concepts from the past and putting their own twists on them. As I've been told time and time again," Good artists steal, bad artists copy."
Below are a few notable Youtube wonders who have hooked massive amounts of subscribers. Take a listen for yourself.

Drew Tabor- Born To Die (Lana Del Rey cover)

Jayme Dee- Toxic (Britney Spears cover)

Walk off the Earth- Can't Take My Eyes Off You (feat. Selah Sue)

Walk off the Earth- I Knew You Were Trouble (Taylor Swift cover)

Hannah Trigwell- Too Close (Alex Clare cover)

Julia Sheer & Jon D- Little Talks (Of Monsters and Men cover)

Kina Grannis- In Your Arms (original)

Sarah Blackwood feat. Emily Bones- Say It Ain't So (Weezer cover)

Madilyn Bailey & Jake Coco- Drive By (Train cover)