Pikolinos is a shoe and accessory brand known for creating handcrafted, naturally dyed products that are both comfortable and stylish. Founded in Spain, the company has received ISO: 14001 certification that assures its environmental sustainability through the use of recycled materials, minimization of wastes, and treatment of leather in natural ways without the utilization of chrome. Recently, the eco-chic brand has launched their new Maasai Project Collection. Shoes and handbags are individually embroidered by women of the Maasai Tribe in Africa, one of the world's most endangered tribes as declared by the UN.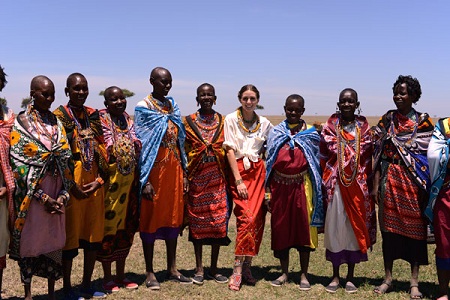 Olivia Palermo in Kenya with Members of the Maasai Tribe Photo Credit: Johannes Huebl
Leather pieces are distributed to villages of the Maasai Mara in Kenya and Tanzania where the 1600 Maasai women involved embroider them with vibrant beads in traditional ethnic motifs. Once ornamented, the pieces are sent to Spain to undergo the final stages of production and are then distributed for sale. In exchange for their efforts, the Maasai women receive fair wages that enable them to support their families and community. The result is 1600 families with steady incomes that can be used to purchase necessary food and medicine. In addition to fostering economic independence, the project has also allowed the Maasai to purchase their own land and prevent its expropriation. Education has also been bolstered by the establishment of a school for 200 children.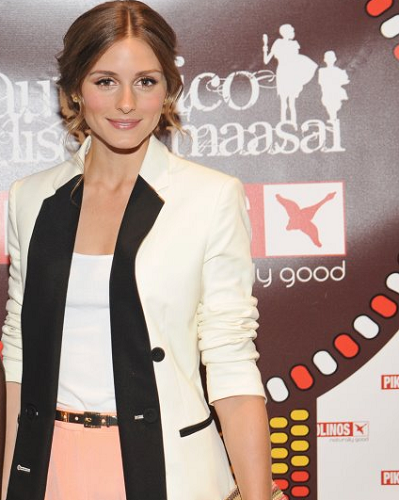 Olivia Palermo showcasing Pikolinos' Maasai Project Collection
Pikolinos has chosen Olivia Palermo, a New York based fashionista, as the project's ambassador. Palermo has recently visited Kenya where she met members of the Maasai community, experienced the embroidery process firsthand, and posed with the community for campaign photos that now grace the pages of our favorite fashion magazines. The photos can also be viewed in the collection's look book HERE.
This is Pikolinos' fourth year collaborating with the Maasai community on a sustainable marketing project meant to remind both consumers and fellow industry members that "another wold is possible" in which industry can be transformed into a system for bettering the quality of life for struggling communities.