I am not, nor have I ever been, a huge singing competition viewer. It's not that I don't like them, I just don't watch much television, so when I do, I usually watch shows like Shameless and Weeds (which sadly, is now over). But in 2011, when they announced a new talent competition with a fresh concept, and of course…Adam Levine, I had to tune in. Instantly, I became hooked and haven't missed an episode since. I am super passionate about music and, if you are too, and have never seen this show, I highly recommend it. Last Monday, season four aired and another hour long episode took place on Tuesday night. Each season, I think it can't get better, but I always become contradicted. This season is no exception. Below are my top seven favorite auditions.
Jess Kilner "Can't help falling in love with you" – I love her smooth and raspy voice. I think she made a great decision with Usher.
Sarah Simmons "One of us" – This was my absolute favorite performance of the week. This girl is KILLER.
Midas Whale "Folsom Prison blues"- I love these guys, I think they would sound really cool doing a rap or hip hop cover.
Josiah Hawley "Sunday Morning"- I love how different his version is from Adams. He is super unique and unlike anyone I've heard.
Judith Hill "What a girl wants"- Once again, I love her take on another artists song. There's nothing that suckers me more than an artistic approach to a well-known and very respected song. This girl is obviously a pro and a visionary.
Christian Porter "Sexy and I know it"- I am probably the the worlds LAST LMFAO supporter… literally the bottom of the list. But as I've said before, I love creative covers of songs, and I am also a fan of folky, raspy voices. That puts Porter unquestionably on my list.
Kris Thomas "Saving all my love for you"- A man doing a Whitney song and rocking it like that deserves to be made an example of. Kris Thomas is one to watch out for in this competition for sure.
I was pretty apprehensive at first about the new judges, but I am taking to them very well. Usher is super sweet, super talented and he's not bad to look at… oh and did I mention talented? He discovered J.Biebs after all. And Shakira, she has such a good demeanor and style about her. I really see this being a great group of judges. Here are the teams so far-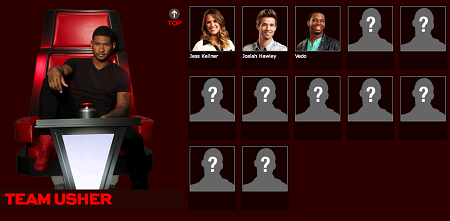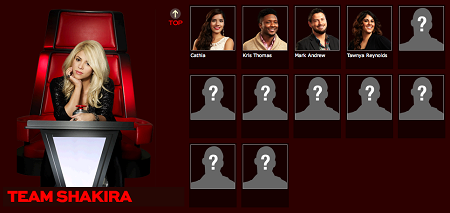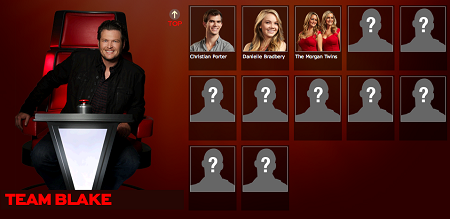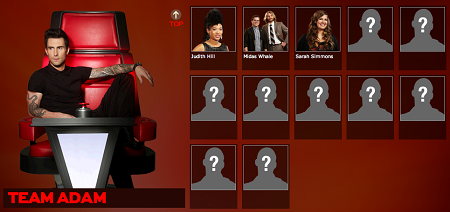 Tune in Monday and Tuesday on ABC for week 2 of the blind auditions.
Until next time,
Chelsey