Within my previous years attending The Art Institute of Colorado, I have gained somewhat of an obsession with Lady Gaga. There was actually a three month period before her concert in 2010, when every project I created in school revolved around this amazing woman. FCF wants to wish Lady Gaga a wonderful, eventful, safe and exciting birthday.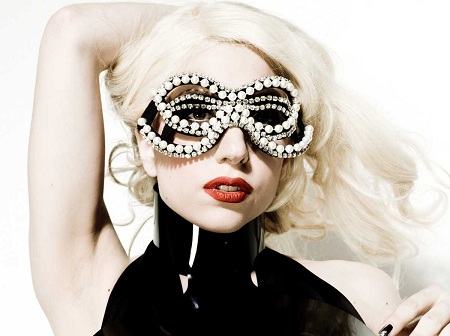 Below is the paper I wrote in September 2010 for my English Composition II class about the amazing woman named Lady Gaga. Enjoy!
Lady Gaga
By: Marissa Lundeen
Class: English Composition II
Teacher: Heidi Pope Werner
Abstract
Lady Gaga, also known as 2010's queen of pop, has stolen hearts with her strange fashion and unspoken choice of words; but these characteristics have also pushed potential fans away. In 2008, controversial rumors sparked about Lady Gaga's gender. Images and videos claim proof that Lady Gaga was born and may still be a hermaphrodite. Other views claim Lady Gaga purposely made her private area look larger as a publicity stunt. Whether she is in fact a hermaphrodite; fans claim it would make no difference in their love of her. After viewing countless interviews, videos, and articles of Lady Gaga from birth to present day, research will determine if she is in fact a hermaphrodite or if all is rumor.
Lady Gaga has shown the world that it is okay to be different. She states that she has always felt different as a young girl growing up. She wants to give her fans and the world the motivation to be who they are no matter what others think. Whether Lady Gaga has stolen your heart with her out of control fashions, or if she has made you sick with her blunt opinion, come on an adventure through the twenty-four year old life of 2010's queen of pop.
"She wore a platinum blonde wig and a red American Apparel outfit so tight it could trigger a yeast infection," (Herbert, 2010, p.58).
Before the world knew Lady Gaga, she was once called Stefani Joanne Angelina Germanotta. Stefani was born March 28, 1986 in New York, New York (Ace, 2010). Her parents Joe and Cynthia Germanotta were founders of the internet based Italian Immigrant stock. Their market had just set off in 1990, this business gave the Germanotta family of Stefani and her little sister Natali a comfortable atmosphere (Herbert, 2010, p.10).
By the time Stefani turned four-years-old, she was playing the piano by ear and sang along to songs by Michael Jackson and Cyndi Lauper (Herbert, 2010, p.13). When asked by Ellen DeGeneres in an interview, "What's the best Christmas gift you have ever received? My father bought me a four-track-task-cam-recorder, when I was about eleven years old, and it was this really, really simple mechanism that I could just sit at the piano, and hook up a mic and record by myself" (Nemedia, 2009, 6:00). Young Stefani would sit in restaurants with her family beating the bread sticks like drum sticks (Herbert, 2010, p.13). It was within these few years when Joe and Cynthia realized Stefani was born to entertain.
At age eleven, Stefani began school at an all-girls Convent of the Sacred Heart Institution in New York. This Catholic school cost $23,000 a year, which included piano, dance, and drama (Herbert, 2010, p.15). Stefani later admits, "I went to a lovely school and I got an incredible education. And I actually think that my education is what really sets me apart, 'cause I'm very smart. I don't know that my schooling was conductive to wild ideas and creativity, but it gave me discipline and drive" (Herbert, 2010, p.16).  The girls who attended school with Stefani would describe her as the center of attention. Her friends would say, "No matter what she was wearing, even zipped up to her neck in a parka, she looked naked." Her fashion sense was becoming aware (Herbert, 2010, p.17).  When Cristina Civetta went to school with Stefani she would describe her as, "a straight-A student, who wore her skirt to her knee, as we were supposed to, and knee-high socks." Cristina, now a New York writer and fashion designer said she was so shocked when she saw Stefani perform as Lady Gaga. She was in a coned bra and little hot pants. Cristina said, 'Damn, you have changed!' But when she talked to Lady Gaga, she found that she hadn't changed at all…she was still one of the nice girls (Herbert, 2010, p.19).
Stefani was thirteen and she had written her first song called, "To Love Again." Her mother began taking her to New York nightclubs for open-mic nights. Stefani describes her mom as super cool. "She'd help me sign up and perform, and then when I got to college, I started gigging." Her mother would say, "You've got to play clubs, you've got to do amazing, you've got to fail, you've got to get standing ovations and need to be booed off the stage" (Herbert, 2010, p.24).
At age seventeen, Stefani was accepted into New York's Tisch School of the Arts. This school specialized in film, drama, and dance. She did theatre in high school and theatre in college. Whenever she did pop performances, people would say she should do theatre, but when she would audition for musicals, they'd tell her, she was too pop. Stefani dropped out of college from frustration. She said, 'Fuck it! I will do whatever I want to do.' She started playing at the Lower East Side club, then all over New York (Herbert, 2010, p.28).
It is said that convent girls go wild, really wild. In New York 2005, Stefani was not working toward any goals in her life. She was living in a little apartment trying to make it on her own. She was working as a burlesque singer and had started using cocaine. She would work on her hair and make-up for hours alone and on cocaine. She isolated herself when she was high, just her music and her drugs. When her friends finally came over they asked her if she had been doing this alone. Stefani admitted, "Um yes, me and my mirror" (Herbert, 2010, p.33). At this point, Stefani realized she had a problem. "It's from my coke years…2005 was where it began, and I thought I was going die. I never really did the drugs for the high- it was more the romanticism of Andy Warhol and Mick Jagger, and all the artists that I loved. I wanted to be them and I wanted to live their life, and I wanted to understand the way that they saw things and how they arrived at their art. And I believed the only way I could do this was to live the lifestyle, and so I did" (Herbert, 2010, p.33).
Stefani's father Joe was appalled to see what had come of his daughter in just a year on her own. He looked at her and said, "You're fuckin' up, kid." Stefani looked at him and thought, "How does he know that I'm high right now?" (Herbert, 2010, p.36) Stefani showed her respect for her father by saying, "If somebody walks up to me and says, 'You're a nasty bitch, and I hate your music and you're talentless,' it means nothing to me. Nothing. But if my father says it, it means a lot (Herbert, 2010, p.37). I was completely mental and had just been through so much…I do not want my fans to ever emulate that or be that way. I don't want my fans to think they have to be that way to be great. It's in the past. It was a low point, and it led to disaster" (Robinson, 2010).
Once Stefani got back on her feet from her wicked past, she met a burlesque dancer that would show her to fame and glory. Collen Martin, aka Lady Starlight, a rock and roll DJ, go-go dancer, performance artist, and fashion stylist. In 2005, Lady Starlight started playing gigs with Stefani downtown in clubs such as, Mercury Lounge, Rockwood Music Hall, and The Bitter End (Snow, 2009). "I actually never really thought of it like that (performance as art) until I started working with Lady Starlight…One day she was like it's not really a concert and it's not really a show. It's performance art. What you're doing is not just singing…it's art, And once she pointed out to me what I was already doing I just started analyzing that more and researching to try to take it in a different direction" (Snow, 2009).
Stefani was now nineteen; she had met L.A. Reid, the chairman of Island Def Jam Music Group. Reid heard Stefani singing in the hallway next to his office; soon afterward he signed her to Def Jam Recording. Reid did not hesitate to sign Stefani onto Def Jam Recording for $850,000. Def Jam dropped her after only three months, due to their lack of understanding each other and the fact that the tracks she produced with Def Jam had no immediate response (Lara, 2010).
Stefani found her rainbow after the storm with Def Jam Recording, soon after she met the singer and producer of RedOne. RedOne met Stefani through their management, New Heights. "Actually, at the time I started working with her she had just got dropped from her record label. My manager called me and said, 'You have to meet this girl-she is the most incredible artist.' If someone is good, it doesn't matter to me if that person has a deal. The first day we worked together, we came up with a song called 'Boys Boys Boys' and we just clicked" (Herbert, 2010, p.41).
Through RedOne, Stefani was introduced to Akon; her future partner in the song "Just Dance" (Herbert, 2010, p.45). The CEO of Interscope-Geffen-A&M; Jimmy Lovine, convinced Akon to sign Stefani to his own label, Kon Live Distribution. During this time Stefani's appearance was changing, she went from a brunette to a blonde and her clothing became more provocative. When songwriter and classical pianist, Rob Furari met Stefani in 2006, Furari helped Stefani find the right sound for herself as a new break through artist. "We were working one day in the studio, and Queen's 'Radio Ga Ga' came on and I was like, you are so Radio Ga Ga. So Gaga became her nickname" (Herbert, 2010, p.54). From that moment on Stefani answered to no other name then Lady Gaga. Through her producer and ex-boyfriend Rob Furari, Lady Gaga met Vincent Herbert. Vincent immediately knew she had potential, so he signed her to Streamline Records. "Even back then, she was famous for showing up for work in her undies" (Herbert, 2010, p.65).
Lady Gaga realized through a difficult audience that sex sells. "I had new material and I had on this amazing outfit…so I sat down, cleared my throat and waited for everyone to go quiet. It was a bunch of frat kids from the West Village and I couldn't get them to shut up. I didn't want to start singing while they were talking, so I got undressed. There I was, sitting at the piano in my underwear. So they shut up…but the truth is that unless you were in the audience in that very spontaneous moment, it doesn't mean anything. It's, like, I took my clothes off, so sex sells, right? But in the context of that moment, in that neighborhood, in front of that audience, I was doing something radical" (Herbert, 2010, p.49).
Lady Gaga and Lady Starlight preformed at the Lollapalooza annual music festival in Chicago. Within this performance Lady Gaga explains she had a blast, although it was nerve-wracking. They had many technical difficulties on stage. This was not a performance that she likes to remember so fondly. But if anything, she loved the sea of hippies that were not expecting what they saw, and she loved the shock art aspect of it. Soon after her performance at the Lollapalooza she admits she was arrested. "I was outside the Lollapalooza festival in Chicago and this policeman came up and told me my hot pants were too short…they weren't really pants at all, but he got upset and I got a citation. All people will have seen is this half-naked girl on the street yelling, 'it's fashion! I'm an artist!" (Herbert, 2010, p.61)
Gossip columnist, Gagalyte Perez Hilton attracted attention to Lady Gaga and basically introduce her to the public. She gave Perez plenty of material with her music, strange appearance and cropped outfits to expose her (Herbert, 2010, p.59). "When she released 'Just Dance' in April 2008, that kind of music wasn't played on the radio. Now it's everywhere. She made pop music exciting again, in a way that I, as an intent observer of pop culture, haven't experienced since Madonna. Exciting and dangerous, she plays by her own rules," Said Perez. He also claims that Christina Aguilera was copying Lady Gaga before she was introduced to the public (Vigilant, 2009).
Throughout the few years of Lady Gaga performing with Lady Starlight, she would reference Lady Starlight as "my girlfriend." Lady Gaga admits she has always been bisexual, but her love for women has only been physical, not emotional. Her only serious relationship was with her heavy metal drummer, Luke. "The first love of my life used to drive me around in an El Camino. It's watermelon-green with a black hood, and he has long, jet-black hair and he looked like half Neil Young, half Nikki Sixx… the way that he talked about his car…and the way that he stalls the gas when he's turning the corner…that's my guy! I like guys like that, guys that listen to AC/DC and drink beers, and buy me drinks just to show me off at the bar by the jukebox with their friends" (Herbert, 2010, p.64). Lady Gaga dated her former producer Rob Fusari. In 2007, he sued her for $30 million dollars for unlicensed employment agent, claiming he co-wrote some of her hits (Strauss, 2010, p.69). Lady Gaga was seen on July 26, 2010 dating musician Luc Carl (Moore, 2010, p.14). Knowing that Lady Gaga only dates men, but has physical attraction to woman may have struck the claims of her being part male and part female. Lady Gaga's manager was asked if within the song "Poker Face," the verse "Bluffin with my muffin," has anything to do with these hermaphrodite rumors. He said her sexuality is bisexual and has nothing to do with the rumors (Marikar, 2009).
A hermaphrodite is a child born with both male and female genitals. Lady Gaga has pictures and videos claiming she is a hermaphrodite. Although there are many testimonies of this rumor, it happens to stay a rumor due to her lack of confirmation. During her show at the Glastonbury festival in England 2009, Lady Gaga was videotaped getting off a motorcycle and showing a large bulge protruding from her underwear (Housebird, 2009). Lady Gaga's manager claims the bulge could have been from a bad angle, her undergarments, but not a penis. He said this rumor is completely ridiculous (Marikar, 2009).
Supposedly, Lady Gaga was interviewed after the Glastonbury festival and said, "It's not something that I'm ashamed of, just isn't something that I go around telling everyone. Yes. I have both male and female genitalia, but I consider myself a female. It's just a little bit of a penis and really doesn't interfere much with my life." The reason she hasn't talked about this issue is because it's not a big deal to her (Gossip, 2009). Whether one may want to believe this statement or not, there was no actual interview footage, or sources next to this quote of Lady Gaga saying these words, only typed statements on random websites showing that this quote was completely fabricated.
Lady Gaga makes fun of the rumor during a concert. She states, "You know somebody asked me very recently a very strange question…they said Lady Gaga do you have a dick? And I said yes I do and it's much bigger than yours" (Anne, 2009). Within an interview with Barbra Walter, Lady Gaga was asked, "There is this strange rumor that you are part man and part woman…true?" Lady Gaga quickly replies, "no. At first it was very strange and everyone said that's really quite a story, but in a since I portray myself in a very androgynous way and I love androgyny…I like pushing boundaries" (Asheedald, 2010).
In her 2010 Telephone video, after the officers take her into jail one officer states to the other, "I told you she didn't have a dick" (Line, 2010). Many people and fans believe that within this statement from one officer in the video to the other, Lady Gaga was trying to tell her fans that these rumors are un-true. In the video Alejandro, there is significant footage of tight revealing clothing showing that she has nothing, but female parts.  Websites claim that Lady Gaga uses photo-shop, airbrushing, and other computer alterations within her videos to make it seem like she has only female parts (Relative, 2010). During an interview Lady Gaga was asked, "Do you have a penis?" She replies, "My beautiful vagina is very offended by that question." The interviewer asked, "So you have a vagina?" Lady Gaga then ignored her interviewer and moved on to another question (Grindhouse, 2009). Snopes.com notes that no one of either sex that has been intimate with Lady Gaga reported that she had any surprises (Mikkelson, 2010). With that information I do not agree with the rumors, Lady Gaga is called "Lady" for a reason.
Throughout her life experiences she has found a meaning behind her music and fashion. The main message of her album The Fame Monster is that she is willing to do anything to obtain fame (Vigilant, 2009). Her first hit single. "Bad Romance," which came out from her album The Fame Monster, was iTunes number one download within two days (Purves, 2010, p. 141). Within this song the verse, "I want your ugly, I want your disease, I want your everything, as long as it's free, I want your love…I want your drama, the touch of your hand. I want your leather-studded kiss in the sand." With this verse Lady Gaga is seeking love in a wrong and sick manner. Within this video her eyes, ears, and nose are covered showing that she is a prisoner and a sex slave, but likes it. She knows that fame is ugly, but she still wants it. She knows the music industry will hurt her and treat her badly, but she still wants it (Vigilant, 2009). This song and video has the most symbolic messages that this website claims to have ever analyzed. It has steps within the lyrics in order to obtain world-wide fame. Bad Romance serves as a symbol of MTV's description of the music industry (Vigilant, 2009).
When first watching 'Alejandro,' one would wonder why gay Nazi soldiers are being raped by Lady Gaga. First of all this song has a deep spiritual meaning from the Catholic church to the gay community. The video opens by a funeral procession revealing that something is dead inside Lady Gaga and it seems to be the love of Alejandro. Alejandro may have been a gay man she couldn't be with, a man she is cheating on with Roberto and Fernando, or even God.  In the video she is giving the sign of blessing and benediction, which is a gesture from Catholicism for those who are considered Holy. She is then seen wearing a robe containing an inverted cross and she is hiding one eye. With her covering one eye she is showing a sign of Luciferian priestess, which is a sign of Illuminati control or loyalty. The symbol on her robe is of an inverted cross, this comes from the "Cross of St. Peter," a request to be crucified upside down because he was unworthy to be put to death in the same manner as Christ (Vigilant, 2009). She is then seen swallowing her rosary, showing that she is trying to obtain godhood on her own. Before Lady Gaga, music fans were subjected to a creative drought. Once she came into the picture she gave music fans painful flashes of symbols leaving them with a feeling that something was wrong with her act, but still they can't stop listening to her (Vigilant, 2009).
Not only does Lady Gaga have a meaning behind the music she writes, but also the garments she wears. With the most resent of her garments, was the one she wore to the 2010 VMAs, in which no other artist has dared to wear. The meat dress she wore was designed by Franc Fernandez. This dress was made by actual meat and was cut and fitted to fit her body. For the cost of the meat put into this garment was a total of $45.00. Her reasoning behind wearing this dress was to show her devastation to her fans who are gay and the governmental oppression on them. She feels that the government is being un-fair to the gay community, by not giving them the same rights as a man and woman. Lady Gaga recently spoke for the Don't Ask Don't Tell proposition. This was for the LGBT and SLDN community to gain the right to serve in the US military. She was disappointed that this act was repealed by our senators, but says she will keep fighting and won't give up (Hausof, 2010).
With her meat dress she admits she never meant to offend anyone who is vegan or vegetarian, but this dress was worn to show what she believed in for human rights. She stated, "Pretty soon we're going to have as much rights as the meat on our bones." This dress did light off PETA. They said, "Meat is the decomposing flesh of a tormented animal who didn't want to die, and after a few hours under the TV lights, it would smell like the rotting flesh it is and likely be crawling in maggots – not to attractive, really" (Ganz, 2010). With her meat dress some websites proclaim it's similar to the painting "Incarnation" by the artist Mark Ryden (Clott, 2010).
Lady Gaga is one of the most inspirational artists of 2010 (Asheedald, 2010). She has arrived into the public from out of nowhere. One can say she might be an alien, considering she claims she doesn't drink water during her performances because she wants her audience to not see her as an ordinary human. No matter what one may think about this amazing woman, she will always do what she wants not caring what anyone will think of her. She wants her fans to leave her show not loving her more, but loving themselves more. With this said, take her as she is because she isn't going to change for nobody.
References available upon request.