Spring is here! Regardless of the fact I still find myself digging my car out in the morning and the snow just keeps on coming, the spring season is technically among us. Stores are filling with this season's colorful merchandise, and I am going to help you replenish your closet with all spring's hottest trends.
I've got a bad case of spring fever and have begun to fill my closet with colors and light fabrics in preparation. Spring cleaning to me means- take all the clothes I hate and the useless junk in my apartment to the thrift store to make more room for all the crap I'm going to buy this year! My preferred thrift store is a real small one on 414 Broadway in Denver called Safari Seconds. It is local and profits go to help refugee resettlement. Sure, there is a Goodwill across the street, but instead of "do you want a receipt?" as you chuck your bags in a blue bin, the lady says "thank you" and "God bless you" with incredible sincerity. It just feels a little better to know that I can help someone with all the worthless things I bought.
The first trend comes in different forms every year come spring and summer. Featherweight sheer fabrics like silk chiffon, organza, lace and mousseline create soft and dreamy garments. Sheer clothes that take on a lingerie inspiration like this Donna Karan dress are elegant and sexy. Whimsical silhouettes and sheer cutouts are welcome in my closet any time, but since I've been sheltered from cold, and thus the sunlight, my skin is currently translucent.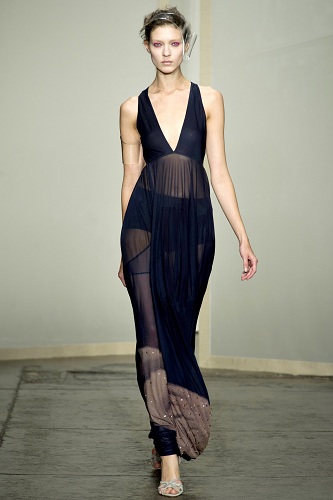 Bermuda shorts strolled down the New York runways, thank god! Perhaps this means we won't be seeing quite as many butt cheeks peeking out this year. They're comfy, chic, and flattering. These shorts are incredibly versatile for business, family, casual, and even a stroll on the beach.
Luxe leather is rolling over from winter to spring with minimalistic shapes and rich colors. Lightweight faux leather that can drape and take on shape creates garments with an edge. This Elle Mugler outfit is an example of the colored leather trend.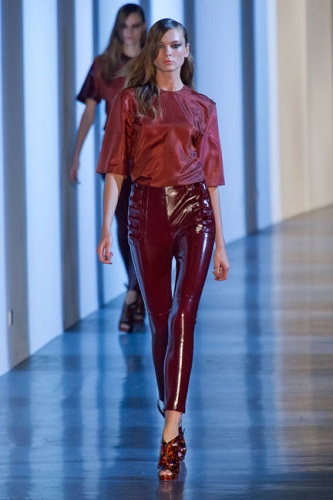 And, of course, COLOR screams spring! Here is a look at the palette for this spring season. These will be the tones you will be seeing a lot of. Emerald is the color of the year according to PANTONE, but I prefer the jade.
PANTONE fashion color report for spring 2013: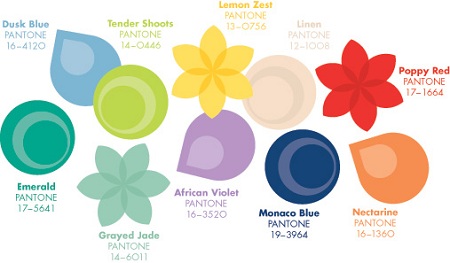 Black and white high-contrast combinations are really in for the season; instead of all the color we usually see. Graphic prints and stripes and color blocking, like in these garments from BCBG Max Azria are all over magazines, Hollywood, and shopping malls.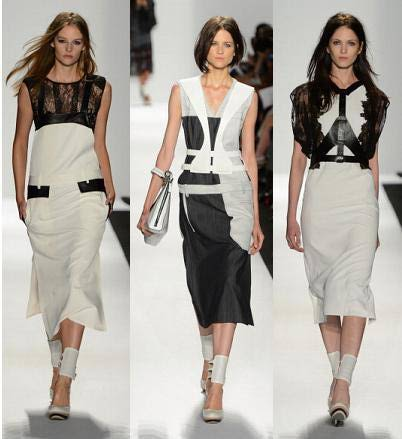 Statement glasses in different shapes and sizes also hit the runway this year. Mod-retro shades are fun and colorful. Today I discovered I needed glasses, and these are the frames I ended up with. They have a unique frame shape for the season, but I hope I don't look ridiculous! What do you think about them?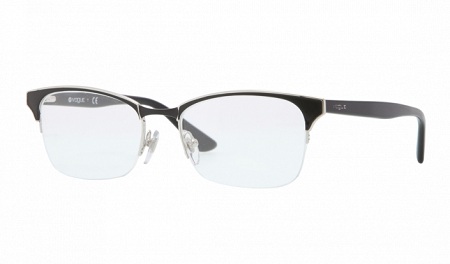 Sporty A-line dresses are a cute and fun silhouette taking over spring. Fitted bodices showing a little shoulder with a full skirt can be dressed up and dressed down for any occasion. They go with all shoes, jackets, accessories, whatever! Chic and simple, this is going to be a popular silhouetted for the season.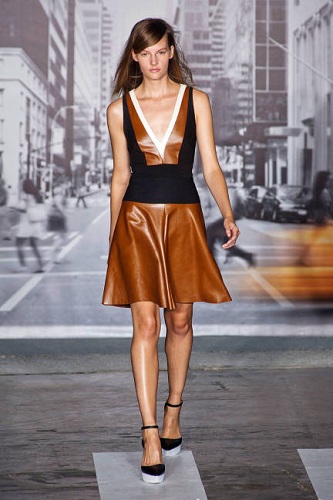 DKNY Spring 2013 Ready to Wear
Clothes also take on inspiration from all around the world. Exotic prints and textiles like brocade, fur, and embellishments make their way on the scene like a fashion Epcot. Don't purchase these too much unless you're prepared to make regular trips to the dry cleaner! Here is a gorgeous Marchesa dress with Indian inspired embellishments.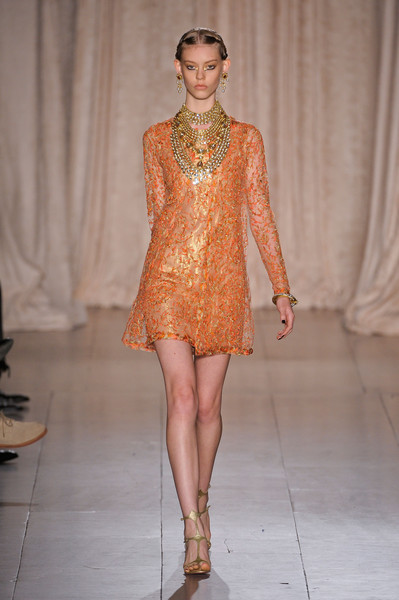 There are sure to be several trends coming, going, and changing throughout the season, but here are just a few to get you started on your hunt!