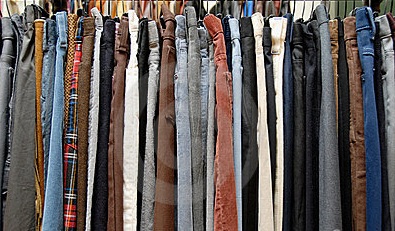 Thrifting can be an opportunity for unexpected discoveries, provide a change in your shopping scenery, and act as a valuable resource for finding those unique items not sold at mainstream retail stores. My recent involvement in costume development for a non-profit play production has reintroduced me to the thrifting scene, though the frustration and overwhelmingness of the process is just as I remembered it. But as I immersed myself in the hunt for specific pieces I soon learned that thrifting can be a rather pleasant experience, so long as you have the right mindset and properly prepare for your shopping excursions. To better my experiences, as well as those of others, I've compiled some nifty tips I've learned from fellow thrifters.
1. Before you leave your home, take a quick mental inventory of your closet. This way, if you come across a potential outfit piece, you will be able to envision how it will complement those already in your wardrobe. Take pictures with your phone if you are looking to find items that match specific pieces.
2. Look up some local thrift/vintage shops and their locations and plan out your travel route (I use Google Maps). Beginning your day with some sort of a plan will keep you on an organized track and save you time. One helpful app I use called ThriftBuddy, finds nearby stores based on your current/intended location and provides the names, addressees, phone numbers, and store hours of each.
3. Give yourself an appropriate amount of time to mosey around each shop – one can never tell how much time she will spend browsing. I'd say 1 hour is the minimum amount.
4. Set a budget for yourself – either an overall budget for the day, or a budget for each store. Even when shopping for a specific piece, it is common for people to find themselves with a pile of items that each unexpectedly caught their eye by the time they reach the register. At this point, one should narrow his/her options down to what they will value the most. And remember to ALWAYS HAVE CASH on you, since that is all some thrift stores will accept.
5. Dress appropriately. Wearing a cross body bag or something with pockets to hold your money, cellphone, credit cards, etc. will free you hands to sift through the racks. Slip on shoes are ideal both for comfort and for trying on other shoes you may find. Wear form fitting clothing (i.e. skinny jeans, leggings, tighter shirts, unitards) so  that you can try things on over your clothes to save yourself a trip to the fitting room. Many stores don't even have fitting rooms.
6. Bring a water bottle and a snack or two. I often hit a slump in the middle of shopping (this is usually the point where I get frustrated and decide to call it a day), but this can be easily taken care of by eating a granola bar to recharge.
7. Bring a thrifting buddy, preferably someone who is patient. An extra set of hands and eyes is always helpful when looking for something in particular. Your buddy may also find an awesome piece that you overlooked.
8. Examine items, especially clothes, thoroughly before purchasing. Check for stains, rips, torn seams, missing buttons/clasps, and in pockets and cuffs for signs of unwanted critters. Also make sure zippers work and decide whether a damaged piece is worth a repair. If you find that something smells a bit funky, put it back! There's a difference between the smell of something old/ used, and straight up funk. Better safe than stinky.
9. Ask the store employees if they are offering any sales/discounts when you first walk in. Sometimes stores will offer  50%, 75%, even more off of select items on certain days/weeks.
10. If you're looking for something vintage, check the labels for authenticity. Union tags appear with a squiggly circle that encompasses the phrase "Union Made" along with the acronyms ILGWU and AFL-CIO. Around its edges will read "Int'l Ladies Garment Workers Union" and behind the medallion should be the image of a tilted, threaded needle. These elements Mark a true vintage piece – made between 1900 and 1980. Garments of this era were usually handmade until outsourcing clothing production became popular in the 80's. Since union tags have changed since 1900, they can also be found in other colors such as red, black, blue, and green. Tags marked "Made in USA" often alongside an American flag design, are also signs of vintage pieces. Additionally, if you come across a designer label or brand name that does not resemble their current tag design, it is most likely a vintage piece of that designer/company. The Vintage Fashion Guild's Label Resource guide provides examples of these varying labels from Chanel to The Gap.
11. If you are looking for a particular item, prepare to leave empty handed on multiple occasions. Thrifting is a scavenger hunt. One never knows what will turn up on any given day, so be patient and be thorough in your search throughout each store.
Happy Hunting!