You know that feeling when you pop off the tags on a brand new top, slip it on, and it fits perfectly? And for a double whammy, it matches with your favorite skirt and heels? It makes you feel luminous. Every woman has certain things that makes her feel like a queen, but that gets me every time. Even a new bra is all I need sometimes to take on the world. As a blogger for First Class Fashionista, I recently had the opportunity to discover a skincare line that makes me feel that radiant every single day.
POND'S® brand new Luminous Clean products are the latest and greatest addition to my daily routine. POND's® enhances the natural radiance my skin already has with illuminating minerals. Thanks to the dry Colorado winter, my skin gets especially dry around my nose and chin, but these products contain a moisturizing formula to replenish moisture and keep it there. What's different about these products that make them unlike any other is that they are infused with soft white Kaolin clay. This natural mineral is known to act like a magnet to draw out deep-dwelling impurities. These cleansers create velvety foam that sinks deep into your skin and turns your fingers into little mini exfoliators.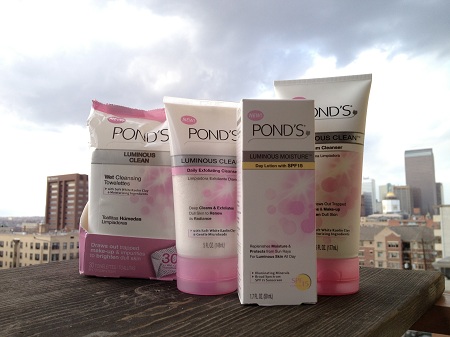 I start my POND'S® cleaning routine with the Luminous Clean Daily Exfoliating cleanser in the morning. I feel like I can wake up with a clean slate that is bright and smells fresh. I follow it up with POND'S® Luminous Moisture Daily Lotion to keep my skin fresh and moisturized all day. It has SPF 15 to protect me from the sun's harsh rays. POND'S® Luminous Clean Wet Cleansing Towelettes work great at the end of the day to get that waterproof goop off and cleans out the make-up that gets deep into pores. I pop a towelette in the microwave for 10 seconds and the little extra heat makes it feel like a mini facial. These are my favorite. It helps to finish off with POND'S® Luminous Clean Cream Cleanser to replenish your skin and look bright and luminous again! I also highly, highly suggest using POND'S® Luminous Moisture Daily Lotion again before bed. Even though you won't be getting your tan on while you are sleeping, it's light and has a barely there feeling yet you can tell that it's working.
Today is the day. You sent in the project you have been working your butt off on for weeks. With fingers crossed, you open the email response and…it was great! They loved it! You are beaming luminosity from the inside out. Imagine that feeling, but it's your skin telling you "You are great!" "I love this stuff!", every time you use POND'S® Luminous Clean. Let every day be that day.
So after a long winter, give your skin a fresh new start for the spring season—Get POND'S® and get glowing. Take the POND's® Luminous 30-day Luminous Photo challenge here, and enter for a chance to win a $500 Walmart gift card plus the entire line of POND's® Luminous facial cleansers and lotions.
Disclosure:
This is a product sponsored post. Regardless, our team at First Class Fashionista only recommends products or services we will use or have used personally and believe will be good for our readers. I am disclosing this in accordance with the Federal Trade Commissions 16 CFR, Part 255 Guides Concerning the Use of Endorsements and Testimonials in Advertising. In cases where we can not support a product, that product will not be featured at FCF.