When deciding on a tattoo, some of the questions you may ask yourself are: Do I want my tattoo to hold specific meaning? What is the best way to visually portray this meaning? Is this an image I want on my body for the rest of my life? Where on my body do I want it? How visible should it to be? …And so on. Though many desire tattoos that are original both in meaning and design, it is not uncommon for people to draw from those around them for inspiration, especially celebrities.
Today's instantaneous spread of information has left us with no shortage of exposed celebs and their ink, but not all tats are created equal. Sure the beauty/significance of a tattoo may be in the eye of the beholder depending on the personal impact it has on him or her, but let's face it – there are some pretty awful tattoos in the world that make you  contemplate, what were they thinking?!  So here's to the ink that has gotten attention for all the right reasons.
Rihanna has ornamented her body with a number of tattoos, some more bold than others like the image of  Egyptian Goddess, Isis, kneeling on the top of her ribcage with wings spread.  The star notoriously known as Bad Girl Ri Ri gave us a glimpse into her softer side with an Instagram post of this tribute to her deceased grandmother, who she noted as a"model for future generations." The shaded image is graceful, yet mysterious – at the same time having a provocative edge with its placement just below the chest. Its rendering is beautifully done as well.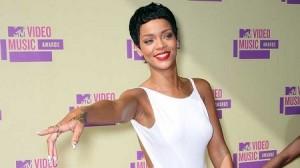 Rihanna's Tribute Tattoo to her Grandmother
The date in roman numerals that spans Rihanna's shoulder (April 11, 1986) is the birthday of her best friend and assistant, Melissa Forde. Simple, delicate, and meaningful.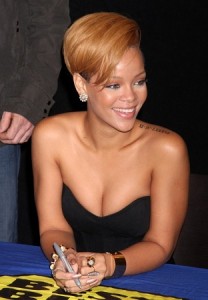 Rihanna signing copies of her "Rated R" album at Best Buy, NYC
Sultry singer and actress, Evan Rachel Wood, has a total of nine tattoos, one of which is an excerpt from an Edgar Allen Poe poem that reads, "All that we see or seem is but a dream within a dream." The elegant script curves inward along her upper back, as if draped between her shoulder blades.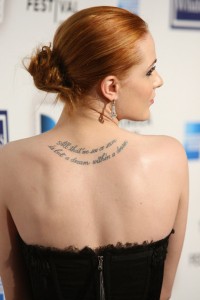 Evan Rachel Wood at the premier of "Whatever Works" – 2009 Tribeca  Film Festival, Ziegfeld
Another one of my favorite back tats belongs to none other than one of the world's most infamous bad girls – Angelina Jolie. Specifically the the Buddhist Pali incarnation on her left shoulder blade, meant to ward off bad luck from her and her adopted son from Cambodia, Maddox. The Khmer Script in which it is written is the language of Cambodia. It reads:
May your enemies run far away from you.
If you acquire riches, may they remain yours always.
Your beauty will be that of Apsara.
Wherever you may go, many will attend, serve and protect you, surrounding you on all sides.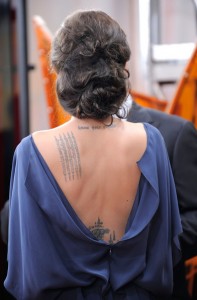 Angelina Jolie at the 15th Annual Screen Actor's Guild Awards, 2009
Victoria Beckham's spinal ink running from the top of her neck, down between her shoulder blades, is a verse from the Song of Songs, a Hebrew poem. There are varying translations of the verse, but the gist of it means, "I am my beloved's, and my beloved is mine, that shepherds among the lilies." This symbol of fidelity is also a nod to David Beckham's Jewish background.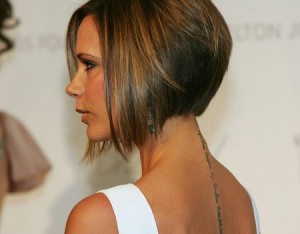 Victoria Beckham at the 15th Annual Elton John AIDS Foundation Academy Awards viewing party, 2007
As for men, it's either go big or go home. In other words, I find it odd for a guy to have singular tattoos that are smaller in size, say on the ankle, wrist, etc. It comes off as a bit feminine. Sleeves, for example have long been typical of the badass-rocker-tough guy. Movies, music culture, and history have engrained in our minds that the larger and more dense the tattoos, the tougher the individual. And so, sleeves seem to be the accessory of choice for musicians like Adam Levine, John Mayer, and Travie McCoy.