Confirmed by the Lilly Pulitzer company, with no further details, unfortunately clothing designer Lilly Pulitzer has died at her home in Florida. Ms. Pulitzer is famously known for her fashion empire which consisted of tropical print shift dresses, and her use of jarring color combinations like flamingo pink and apple green.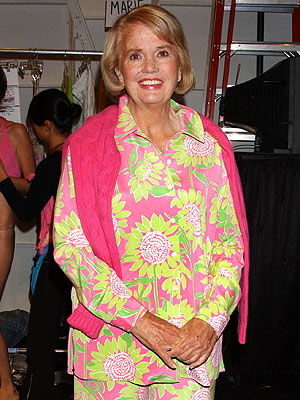 Her success kind of came by accident. In 1959, Pulitzer had opened a juice stand and decided she needed a dress that would camouflage the stains of grapefruits and oranges. She had this type of dress made and sold them at the juice stand. It went on to become a widely popular fashion uniform for the wealthy, who coined the name for the dresses "Lillys".
Although it was the "Lilly" dress that launched Ms. Pulitzers career, she went on to create many collections featuring popular resort wear.
"I designed collections around whatever struck my fancy… fruits, vegetables, politics, or peacocks. It was a total change of life for me, but it made people happy." – Lilly Pulitzer, 2009.
My thoughts go out to Ms. Pulitzers friends and family, but they can rest assured she made an extremely big impact in the world of fashion.