To See or Not To See…?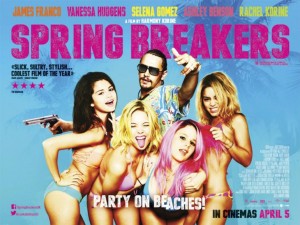 Like a lot of you out there, I was REALLY excited to see this movie! They have been promoting it for what seemed like forever and it features some of Hollywood's hottest young starlets: Selena Gomez, Vanessa Hudgens, Ashley Benson, and Rachel Korine…Not to mention James Franco. The movie follows four young college students and their escapades during spring break. That seems straight forward enough right? WRONG!
I left the theater confused, a little disturbed, and pretty upset that I spent money to see… that.
Throughout the entire film I kept asking myself, what is happening? When is the story going to start? What is wrong with these people?
In all honesty, it was an over-sexed, violent, a confusing excuse for these actresses to break COMPLETELY away from their much talked about "Disney" histories. This could have been done by picking rolls that required moderate to advanced acting, rather than simply taking their clothes off. It seemed to me the movie simply wanted shock value, it wanted to leave people stunned…Not tell a story or send a message.
I would recommend passing on this movie, and if you are just to curious to pass it up all together…Redbox.
Has anyone else seen this film? What did you think? Comment below!