We all know tattoos are permanent, but are celebrities under the assumption that they are easily removed? Let's take a look at the worst celebrity tattoos.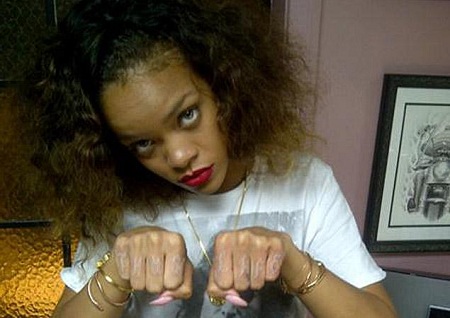 Number 10: Rihanna showcases how "hard" she really is by getting the pale pink letters of "Thug Life" spelled out on her knuckles. Her tattoo was inspired by the rapper Tupac, who supposedly had the same phrase tattooed across his stomach.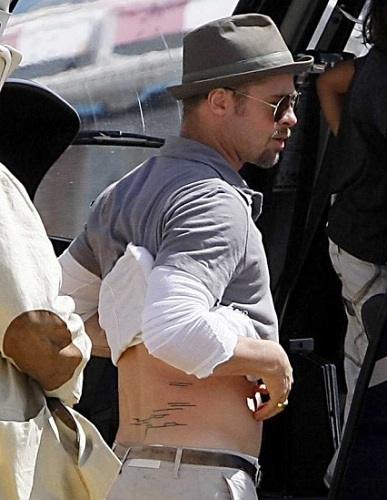 Number 9: Brad Pitts mysterious lines across his lower back, which is believed to hold the meaning related to the street plans in New Orleans, where he is known for doing charity work. It has been said that when you lay a map over the design, it matched up to the areas where he has donated millions since Hurricane Katrina.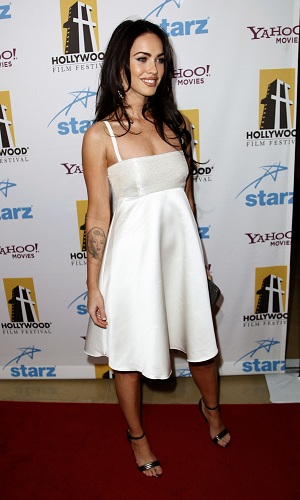 Number 8: Megan Fox's portrait of Marilyn Monroe. This floating head seems to have been removed from the actresses arm, but still comes in as #8 on our list.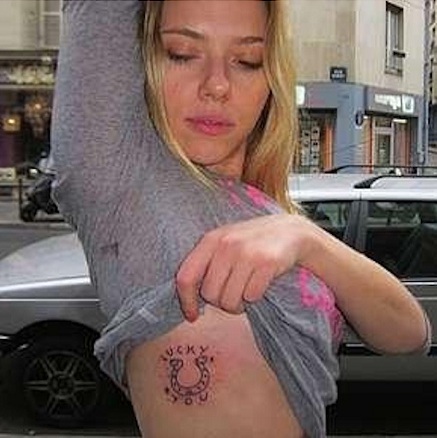 Number 7: Scarlett Johansson's "Lucky You" on her upper side ribs. We are wondering who she assumed would be lucky enough to view that part of her body 😉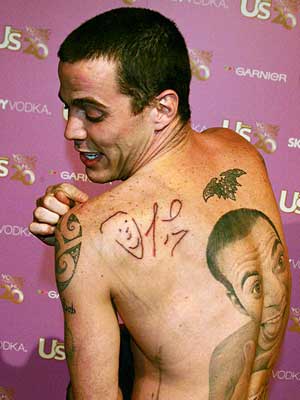 Number 6: Steve-O has a massive portrait of himself on his own back. Maybe he thought people should know who he is, even from behind? The "Jackass" star said, "I never get a tattoo unless I know it will make somebody smile." Well, this has definitely put a smile on my face.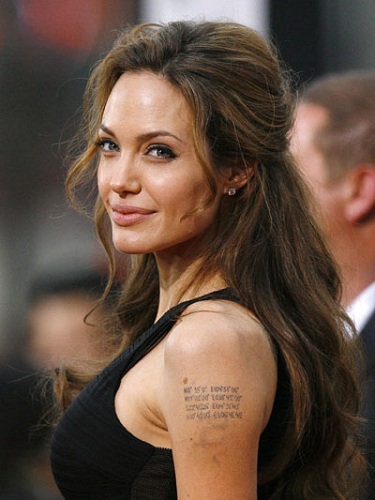 Number 5: While married to Billy Bob Thornton, Angelina Jolie made the mistake of getting his name tattooed on her arm. After their divorce in 2003, she has had the tattoo covered by coordinates representing the locations where her children were born.
Number 4: Cher's backside features butterfly and flowers. We'll leave that one to your imagination. Chere has been sporting tattoos since the 1970s. She has said, "I don't know why I like tattoos so much. I know it's crazy. I can't defend them."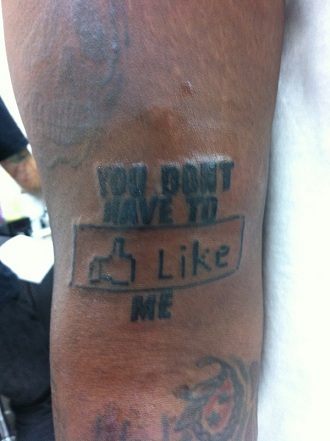 Number 3: It seems T-Pain gets a tattoo every time he visits Hawaii. This time he got the tattoo of "You Don't Have to Like Me" with a "Like" logo from Facebook. Hopefully Facebook does not become obsolete, like Myspace.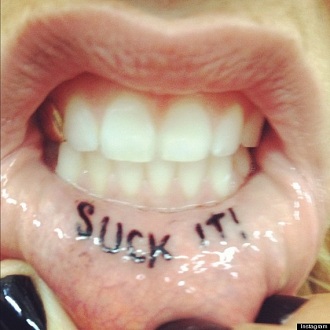 Number 2: Coming in as number 2 on our list, Kesha's tattoo on the inside of her lip that says "Suck It". Sorry Kesha, there is not much else I can say about this one…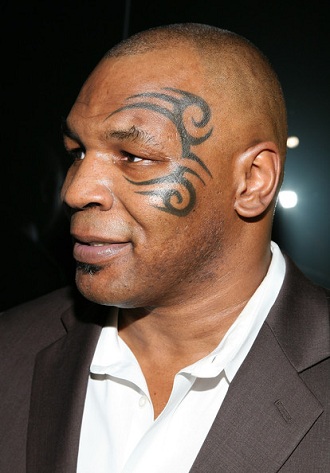 NUMBER 1!!! I know you've seen the movie "The Hang Over". Mr. Mike Tyson comes in as number 1 on our list for his most obvious temple to cheek tattoo on the left side of his face. There is no covering this one up! The former boxer shares this tribal design every day with everybody in his life. Congratulations Mike for making it to number 1 on our list for worst tattoos.
FCF would like to know if you agree or disagree with our list of worst celebrity tattoos, comment below.
FACEBOOK SHOUT OUTS GO OUT TO: Dominique Barree of Colorado Springs, Colorado| Losi Alisha of Colorado Springs, Colorado| Abraham F. Castañeda of Arvada, Colorado| Wayne Avara of Lakewood, Colorado| Holly Janette Bartholomaei of Denver, Colorado| Madeline Haenel of Thornton, Colorado| Emily McBroom of Denver, Colorado| Erica Vallejo of Denver, Colorado| JoDee Lundeen of New Castle, Colorado| Dawn Sanchez of Denver, Colorado.