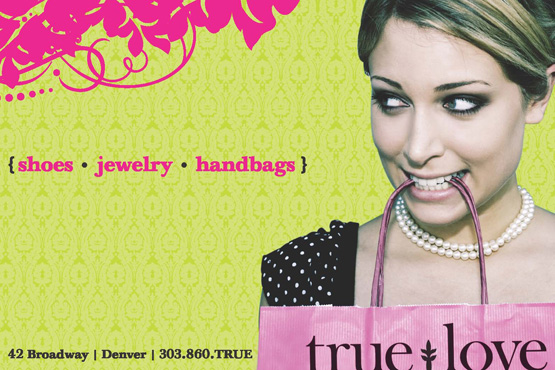 If you're as crazy about shoes as I am, you must stop by True Love Shoes & Accessories located at 42 Broadway Denver, CO.  Not only is this place jam packed with the trendiest shoes around, the accessories are absolutely to die for! The best thing about this boutique is the Shoes are VERY reasonably priced: All True Love Shoes are always priced $24-$42, Boots $58 or less. Sale shoes priced $10-$18. While the accessories start at $4+!
The company also carries the ever popular HUE brand leggings. These pants will absolutely change your life! They look exactly like jeans but provide the comfort of leggings. They're extremely durable and are offered in a variety of colors. Sales associates can help you pick out the best fit for your body type.
First Fridays at True Love are also something to truly drool over. Not only do they offer new deals each month (it could be anything from 15% off all shoes to $10 shoes) but they provide you with pink champagne to enjoy while you shop, making this an ideal "girls night out" check point!
Make sure you sign up for a True Love Reward card while you're in. It's completely free to sign up and you get 4% back in store credit on EVERYTHING you buy… That can easily add up to a free pair of shoes or a whimsical piece of jewelry.
If you weren't sold already, everything thing at True Love is 100% animal free! " No animals are harmed in our pursuit of making you fashionable." Visit True Love Shoe & Accessories and read more about the company, as well as browse through their current inventory here: http://trueloveshoes.com
Also check them out on Facebook and follow the updates about specials and new merchandise: http://www.facebook.com/TrueLoveShoes