This Wednesday, April 17th, marked the 12th annual Tribeca Film Festival in New York City. It all began in 2002 when the event was founded by Robert De Niro, Jane Rosenthal, and Craig Hatkoff. What began as a means of unity for a community significantly impacted by 9/11, evolved into a means for making independent films both by up and coming, as well as established directors, accessible to the public. The Tribeca Film festival has supported rising talent by screening over 1,300 films from over 80 countries since its debut. The coming week will bring with it 53 world premiers from 37 different countries.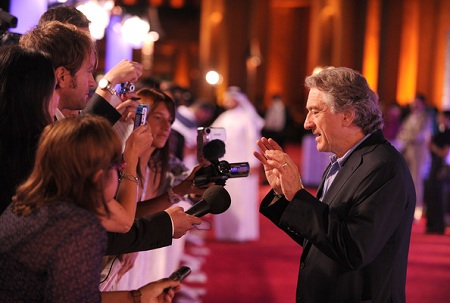 Robert De Niro at the 2010 Doha Tribeca Film Festival – Day 3
I believe that independent cinema has so much more to offer than big screen cinema. Sure, we can all admit to loving the classic drama, special effects, and elaborate sets that are expected of Hollywood features, but indie films can have all of these qualities too. It is not uncommon for some to associate "indie" with a small budget, and though there are participating directors who are strapped financially, their creativity and passion makes up for money related obstacles. In fact, lack of funding in some cases actually makes for a more intriguing, raw product. It forces directors to use their resources inventively and/or put more of a focus on the acting. As for NYC, economic activity is actually bolstered by $725 million.
If you happen to be in the area, take a look at the online screening calendar and see if anything strikes your fancy. If not, pick a random film – you'll probably be pleasantly surprised. Why not seize the opportunity to take part in this cultural event that has attracted more than 3.7 million attendees, while supporting both local and international independent filmmakers? With the variety of dining options in the area, the festival may even provide you with something to put on your itinerary for a perfect date night!
Single tickets are relatively cheap, costing roughly $8.00. They can be purchased online, or you could opt for a festival pass. You could also try the RUSH ticket lines which form 45 minutes prior to a showing, and are based on availability (note that 1 RUSH ticket is allowed per person). The festival ends April, 28th. If you can't make it to NYC, there is always the Tribeca Film Festival: Online Competition, for which four shorts and four features will be screened for a limited time. Viewers can then vote online for their favorites. Otherwise, you can choose from an assortment of genres including comedy, drama, shorts, documentaries, foreign languages, thrillers, etc. Let us know which films are your favorite!