It shocks me to know some women have no idea that simply knowing how to dress for their body type makes shopping so much easier, more gratifying, and fun! For you women that just dread shopping because the hanger seems to rock it so much better, here's some basic knowledge on how to improve your shopping experience and self image.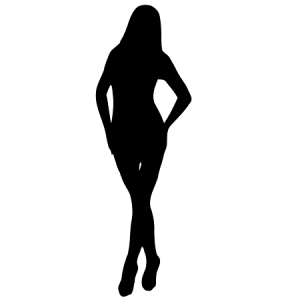 There are 5 basic body types: rectangle, pear, hourglass, inverted triangle, and diamond.
Rectangle body shape: You have a balanced frame with small, even shoulders and hips, and a slightly smaller waist. This is more of a thin, boyish frame. With this frame, the key is to create curves. Form fitting and proportional dresses with a seam or belt to create a waist are ideal. To create curves, add volume with flowy, gathered tops and bottoms with mix-matching effects and a defined waist. You get to mix/match prints with the best results.
Pear body shape: You're hips are larger than your bust and your waist gradually slopes out to the hips. To create the hourglass shape, volume and color on the upper body brings the attention upward. De-emphasize your hips with darker colored bottoms. Go for embellished tops, empire waist styles, flutter sleeves, and a line skirts. Strapless dresses look amazing on you!
Hourglass body shape: You're hips and waist are basically the same size, but your waist is significantly smaller and well defined. To most women, this is "ideal". Show off your figure with balanced clothing on top and bottom that accentuate your narrow waist. Form fitting clothes like skinnies, tailored shirts, and pencil skirts look best on you. The key is keeping proportional without losing your waistline or risk looking wide. Kim Kardashian's pregnancy outfits for example. Belts that accentuate your waist are your best friend.
Inverted triangle body shape: You have a large bust or broad shoulders and narrow hips, and your waist is not very well defined. To create a curvacious and balanced look for narrow hips, wear bottoms that add fullness. Gathered skirts, boyfriend jeans, the printed pants; you get to get crazy with all that. You are one of the few that can potentially pull of harem pants. Sleeveless and v-necks look good on top. Avoid full sleeves, but peplum styles look fabulous on you!
Diamond body shape: You're waist is wider than the narrow shoulders and hips, but the bust is of ample size. Monochromatic looks tend to look best but avoid tight clothing. Add structure to shoulders with some light padding, and draw eyes to your best asset. Bright scarves, full sleeves, broad lapels, and a line skirts work with you. You can bling it up, or chose a monochromatic look with a pop color in one place or thick belt at the waist.
There are body types that are variations of the basics, so just because you think you are one type, doesn't mean you can't dip into different water if you want to. I am busty up top and petite everywhere else, but that doesn't stop me from wearing tunics and leggings like every day. Not sure what your body type is? Put your measurements into the body shape calculator and find out! The first link uses a bust measurement and the second link uses a shoulder measurement.
1. http://www.westfield.com.au/au/be-inspired/services/fashion-services/body-shape-calculator